This summer, we've brought little Gwen (16 months) to pick raspberries, strawberries and blueberries. I was really excited to check vegetables off my list, especially because it'll be such a novel experience for us when vegetables are grown and harvested so differently from berry fruits!
I discovered "Bailey Family Farm" on Google Search and read customers' raving reviews about their wide u-pick selection of vegetables. I was excited to pull my sleeves up and do some vegetable picking (for the first time in my life) with Gwen!
About Bailey Family Farm
I love that it's a flourishing 5th generation family farm that's operated their u-pick garden since 1986, with a steady pool of longtime customers which goes to show the great quality of vegetables and abundance of fun for families on the farm.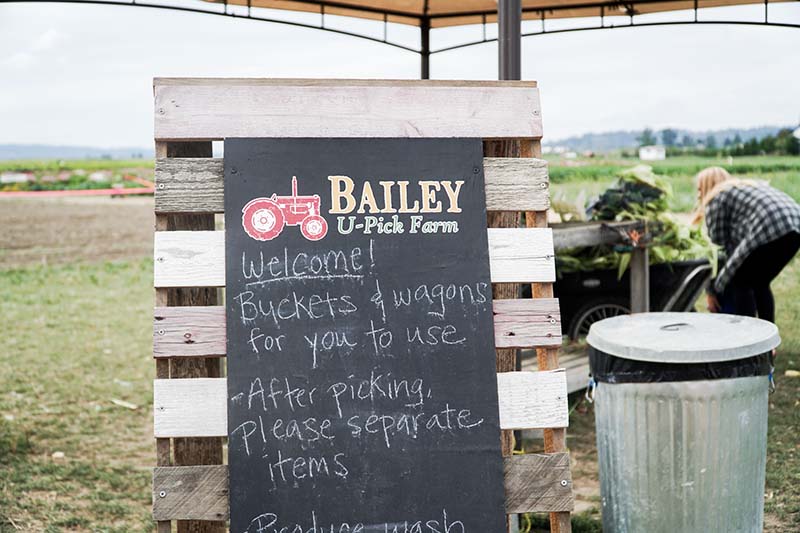 Getting there was really easy, it's located not far after the highway exit, in the quaint Snohomish Valley.
There're so many types of vegetables available for picking — the variety is wonderful for first-time u-pickers like me who wants to try a hand at harvesting a little of everything and seeing how different vegetables are grown in the farm.
The vegetables available for picking are also the common ones we use in our dishes so a trip here meant we could skip grocery runs this week!
Our U-pick Experience
Parking was easy because there were ample lots, even on a weekend afternoon. When we got off the car, the air immediately smelled different — more acrid (probably due to compost), but fresher and cooler as it should be in the vast countryside.
Bailey Family Farm was really well-organized and staffed by a super-friendly employee who warmly welcomed us and guided us on where and how to get started.
First we chose a wheelbarrow for our u-pick loots. Gwen was really keen to help me push it along the dirt road and away we went!
Long green beans were the first vegetables we picked and the easiest for Gwen to pick on her own! She really enjoyed pulling off the long green beans and searching between the bushes for them. Once in a while the force of pulling made her fall backwards but the impact of the fall was cushioned by the plants (plus soft soil) so she always recovered quickly and got back on her feet.
We also picked zucchinis and my, they're bigger than the average supermarket ones. They look more like gourds to me thanks to their sizes! Zuccinis were too difficult for a young child to twist and pull off the stem, so Gwen helped to place picked zucchinis into the wheelbarrow. Remember to adhere to the signage and pick zuccinis without flowers to not affect the growth of the plant!
Purple cabbage was also tough to harvest so Le Husband did the honor of pulling it out. Gwen was intrigued by the purple cabbage and treated it like a precious crystal ball, preferring to hold it in her hands instead of putting it in the wheelbarrow.
Cilantro was also relatively easy to pick for a young child but the issue was that Gwen's picks were always short stalks and she held them so firmly the delicate leaves got crumpled 😂 Just as we were about to be done, I saw expert cilantro pockets pulling cilantro bunches off from the roots and placing straight into plastic bags after dusting the soil. Will put that learning to practice next time!
We wanted to get broccoli but alas there were only 2 rows of them and they'd been picked clean! This was the only vegetable that was in real scarcity!
We moved on to our last stop, the corn fields at the furthest end. I like that they were not too tall in the intimidating sense (I've been to pumpkin farms with adjacent growing corn plants that are taller than me — a feat because I'm a taller than average Asian female at 1.72m!) so some of the corn were at toddler's eye level. Gwen leaned against me while I showed her how I gently twisted the corn from its stem to pluck it off. I handed the harvested corn to her and she was all serious about peeling all the outer husk layers off to get at the corn within!
The only downside was that I don't think the farm was an organic one, so I hastily brought Gwen to wash her hands back at the vegetable stand area before she snacked. A water hose and a water tap are available there so it was convenient for hand and vegetable washing.
We checked out the vegetable stand while Le Husband brought the vegetables for weighing and made payment.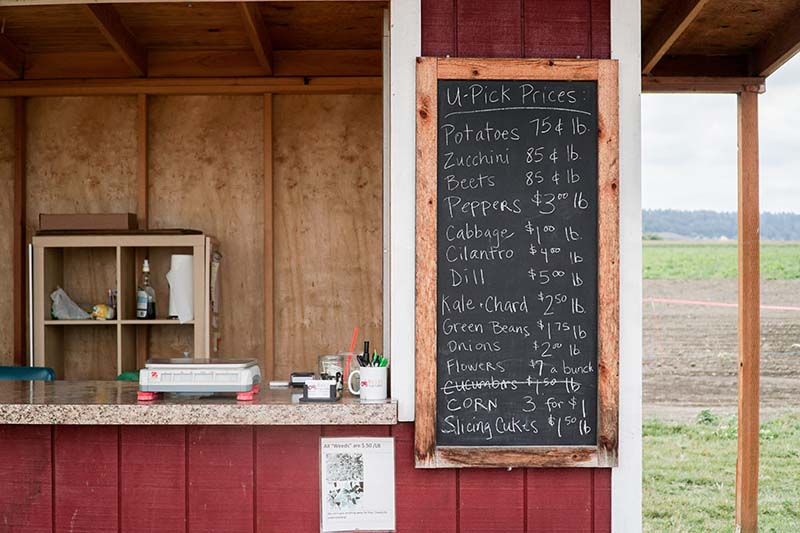 Then we headed to a sheltered area to quickly process the vegetables - removing the outer layers and attached leaves to put into a bucket for compost (this farm is big on composting!) and packaging them into paper bags and plastic bags which were easily accessible.
Our very first vegetable picking trip was such an interesting and memorable one! Gwen learnt and experienced so much... actually that applies to Le Husband and me, who initially weren't able to identify some vegetables without looking at the name signages!
Considerations
Plan your visit to the farm before your grocery runs
I saw kids riding in the wheelbarrows with their parents pulling them, bring along a piece of cardboard to line the bottom and it'll make for a perfect ride without soiling your kids' clothes! We didn't grab a bucket (in hindsight we should have)
You might consider bringing your own shears to cut sunflowers
If you're just picking for the experience, lead your children to the crops that are easiest to pick (green beans, potatoes, cilantro, kale, dill), so they can do lots of harvesting before they tire out and want to be carried/need a snack.
Don't worry about not picking enough with your kids, there's always the vegetable stand to supplement what you lack! The vegetables at the vegetable stand look every bit as fresh as the ones still grounded in soil, I love that they are hand-picked with care and pride. The zuccinis I saw there were the biggest I've seen in my life.
Wear long-sleeved clothing if you're worried about coming into close proximity with bugs - we got up close with ladybugs, bees and ants!
Why U-pick Vegetables With Young Children?
It's such a fun outdoors activity to enjoy the fresh air and engage in a totally new activity they've probably never experienced before
Picking vegetables is such a great physical workout and motor skill exercise for children
Harvesting their own produce helps them appreciate the farm-to-table process and learn where food REALLY comes from
Contact
Bailey Family Farm
Address: 12706 Springhetti Rd, Snohomish, WA 98296
Website here
Facebook page here
Follow #gweninnature on Instagram for my chronicles of traipsing North America with a toddler and seeing nature through her eyes.
Hi! I am Yunnie. I am the newly minted mama to a little baby girl and a mum friend to everyone on this special (and many times scary) journey of motherhood. Also a graduated bride with a penchant for weddings.