It's beginning August now and it's high time in the blueberry picking season! Blueberry picking is in my list for summer activities.
I googled for an organic blueberry farm within a half-hour drive from Seattle/Bellevue and came across "Pine Lake Blueberry Farm".
There weren't many online reviews or images of this farm, so I searched for its social media site, and found a pretty updated Facebook page. Gave their number a call before heading over just to make sure it's open.
The call was picked up within a few rings with a jovial voice assuring me that they're open from "sun up to sun down", which was great because most u-pick farms close around 5-6pm. The long opening hours meant that I could to visit in the evening when the sunlight wasn't that harsh.
Getting There
It's located in one of the Sammamish residential areas so don't be surprised to find yourself driving through many housing estates..
There was a clear Pine Lake Blueberry Farm signage so that's how you know you've gotten to the right place! I was delighted to see designated parking lots for the farm visitors.
We went in the late afternoon on the weekend but there was surprisingly little competition for parking lots! We saw people walking in to pick berries so I reckon many visitors live within walking distance.
Our U-pick Experience
Based on my limited u-pick experience, I had imagined rows of neatly lined blueberry bushes for picking. It was a bit different here, there was a very raw and natural feel to the blueberry farm because there weren't systematically grown rows. Let me try to describe it. The blueberry plants were closely clustered like a mini forest and had differing heights, some shorter bushes and some tall like trees!
It was funny because I actually walked past the blueberry bushes in search of those "neatly lined blueberry bushes" I pictured in my mind until I asked a passerby who incredulously gestured all around and said, "The blueberries are all over!" 😂
I like that there's plenty of shade because of how tight the canopy was, so if you're squatting down to pick the lower-lying berries with your little one both of you will be cool and happy in the shade. There were many berry branches that were just about a toddler's height so your little one should have no problem picking berries on her own.
Your little one may even like tunneling through the thick undergrowth (adults have to bend and scoot through, be careful of sharp twigs and sticks on the ground) to explore the deeper blueberry hedges in the heart of the farm. Once you reach the deep within, the plot of land feels so untouched and you're practically in a world of your own. Very cool!
I love that the blueberries are organic so Gwen could safely mouth the fruits. She had a great time plucking blueberries (sometimes a bunch of them lol), squishing them and placing into the box. She called the fruits "bue" for blueberries so I was delighted that she recognized them and now can relate to the fruits coming from plants in the farm.
The best part was that she seemed to understand the difference in color. I pointed out that unripe blueberries were green while ripe ones were blue and to pick the blue ones and leave the green ones alone to "continue growing" and she could target just the blue ones!
After we were done picking the berries (we took 30-45 mins to be happy with our harvest), we brought them back to the "pay here" payment pole where we could weigh the berries (they're $1.75/lb, a sweet deal!) and slot the cash in the payment box. It's a do-it-yourself honor system and the whole process was very hassle-free and easy.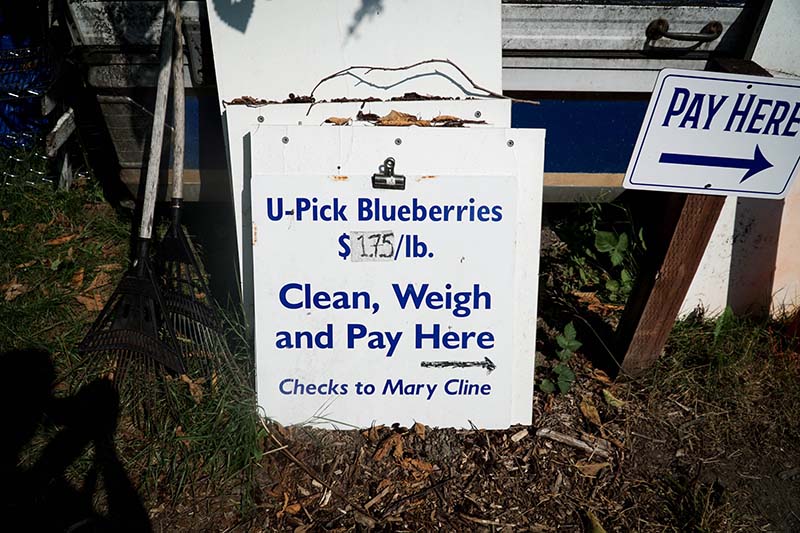 We tried the berries at home. The larger blueberries are sweeter while the smaller ones are sourish and tart. We made them into smoothies and enjoyed the fruits of our labour as a family!
Verdict?
If you want a very relaxing, pick at your own pace, drop by at your own time u-pick experience in as untouched and natural an environment as possible, Pine Lake Blueberry Farm is the perfect place for you!
Tips
Bring your own container for picking berries (preferably with a lid). This is important because containers weren't provided,
Check the weather forecast before heading over. I chose a day and timing which should have been "cloudy". It still wasn't as cooling as I expected, but better than having the sun beat mercilessly down on your back in the peak of summer!
Contact
Pine Lake Organic Blueberry Farm
Facebook page here
Address: 21509 SE 28th LN Sammamish, Washington USA 98075 (Half-hour drive from Seattle/Bellevue area)
Opening hours: Sun up to sun down (woohoo!)
Follow #gweninnature on Instagram for my chronicles of traipsing North America with a toddler and seeing nature through her eyes.
Hi! I am Yunnie. I am the newly minted mama to a little baby girl and a mum friend to everyone on this special (and many times scary) journey of motherhood. Also a graduated bride with a penchant for weddings.