One day, Gwen (18 months) and I were playing with homemade play dough (recipe here) when my little boss dictated me to roll them into "ball balls".
Then curiously she started to stack the round play dough balls one on top of the other with intense concentration.
A brainwave struck me then... what if I moulded the play dough into stackable square blocks instead?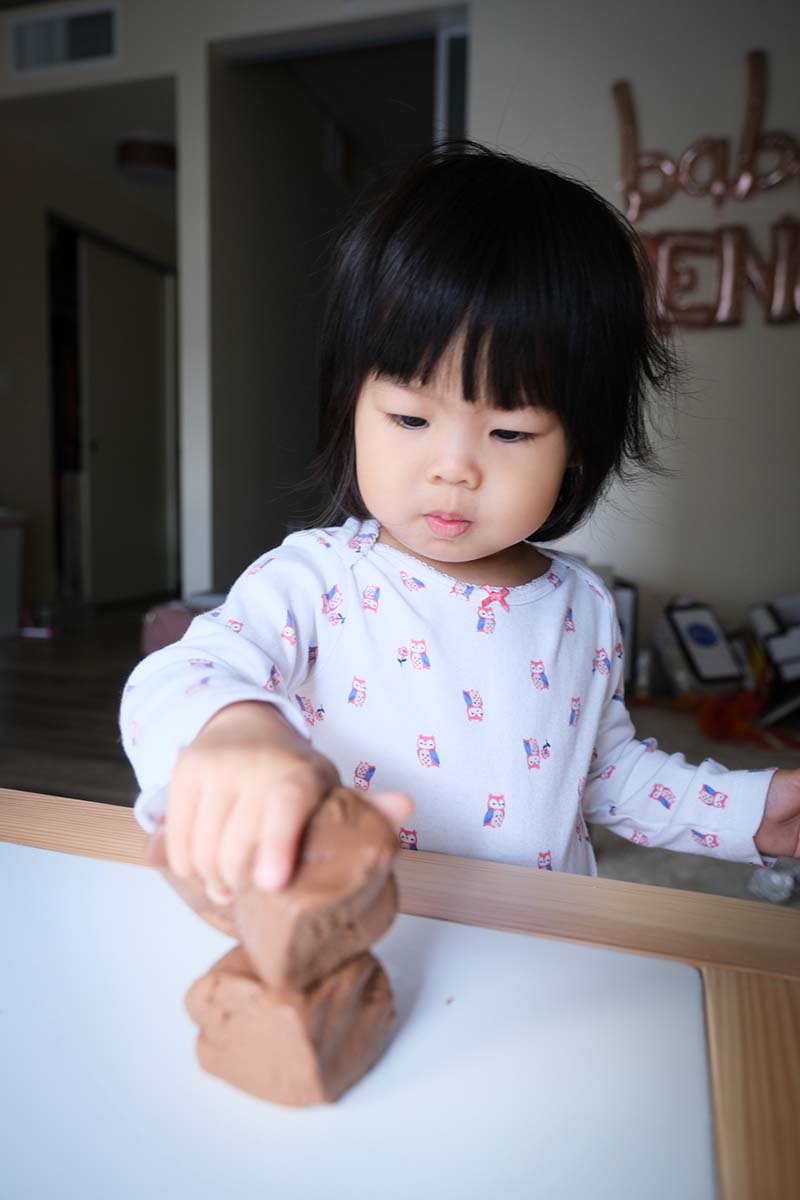 Play Dough Stacking Blocks for Young Toddlers!
How to Make Play Dough Stacking Blocks
They can be moulded by hand, but I highly recommend the use of a simple household tool - the soft silicon ice cube tray!
Simply fit roughly equal amounts of play dough into each of the ice cube compartments, give a little nudge and squeeze, then ease the play dough out, and you get play dough blocks of equivalent sizes!
Gwen's Play Experience
Gwen watched in fascination the entire process of how I shaped the play dough blocks using the silicon ice cube tray.
The interesting thing was that Gwen instinctively stacked the play dough blocks when all the blocks were taken out of the ice cube tray. It's as though there was some magic to the blocks that attracted her fingers! Prior stacking experience probably helped her to relate that those square pieces could be stacked and connection play schema was definitely at work.
The good thing about stacking play dough is that... they're really sturdy and dense, so they aren't easily knocked over by little fingers. Also, they kind of stick to one another a little, which helps young children create higher towers than they usually could with the usual wooden blocks.
Apart from stacking, you could also use the play dough blocks to build snowmen (oops, I mean dough men :p) There's lots of creative possibilities with these play dough blocks!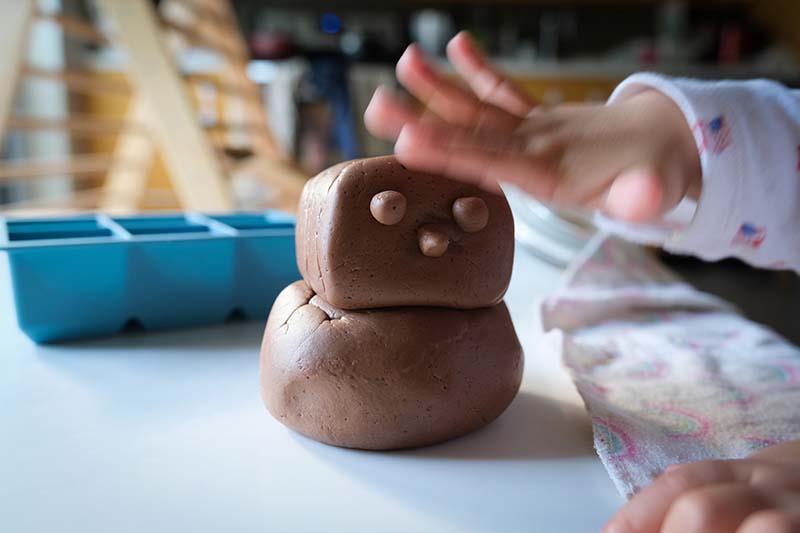 Benefits of Stacking
Enhances problem solving skills
Aids cognitive development
Boosts hand-eye coordination
Improves fine motor skills by working the muscles and tendons in the hand and fingers, critical for later skills like writing, drawing and use of scissors
Builds concentration and focus
Bolsters imagination
Cause and effect learning
If you're keen to make another stacking toy, try making huge stacking cubes out of milk cartons!
Hi! I am Yunnie. I am the newly minted mama to a little baby girl and a mum friend to everyone on this special (and many times scary) journey of motherhood. Also a graduated bride with a penchant for weddings.