At 20 months, I noticed a big leap in the complexity and creativity of my toddler's thinking. She engaged in more symbolic play, terming a pile of wooden blocks a 'house' and a ball of play dough a 'tomato'. She made up stories about her doll needing a diaper change and wishing to use the potty.
Most significantly, she started using her open-ended toys differently. With wooden blocks and play dough, she began manipulating them into make-believe characters and objects. This was distinct from her usual 'dump and fill' or scattering play schemas.
These cues signaled that my toddler was ready for open-ended small world play to strengthen her abstract thinking and grow her creativity. I put a pause on sensory bins and started creating sensory small worlds for her instead to meet this developmental need (elaborated below).
Key differences between Sensory Small Worlds vs Sensory Bins
Purpose. Small worlds are more for ramping up abstract thinking, creativity and language development while sensory bins encourage exploration with senses and refinement of fine motor skills.
Sensory bases. Sensory small worlds are broader extensions of sensory bins, usually comprising a variety of sensory materials vs using just one type of sensory filler.
Visual setup. Small worlds project a theme, an environment, an ecosystem, a vision of a real-world scenario... while sensory bins usually look like an abundance of one sensory filler.
For comparison in greater depth, refer to Little Bins for Little Hands's article on the difference of small worlds and sensory bins.
10+ DIY Indoor Small Worlds to Inspire Toddler Real World Learning!
There are boundless ideas for small worlds! For a start, I created small worlds with eocsystems, living organisms and characters my toddler was already familiar with based on her outdoor exposure, learning from books and interactions with her environment.
1) Insect Small World
The National Geographic Kids Everything Insects book is a great complement to this insect sensory small world setup. It is a highly visual and informative resource book for little budding entomologists to learn about insects' habitats, behaviours and roles in the ecosystem.
I wanted to simulate the insect living environment as much as possible so I utilised nature-based elements and loose parts in my setup. Uncooked black rice was used represent dirt and I included rocks of assorted sizes and pinecones. The insects in this small world play are realistic-looking figurines.
To create a highly sensorial play experience, I added lavender buds to mimic scent of flowers in parks and engage my toddler's sense of smell. For fine motor practice, I added a pair of tongs for my toddler to pick up the insect figurines and examine them more closely. A child-friendly magnifying glass would be great for insect study.
For my toddler, it was like seeing insects from picture books coming to life. What is great about insect small world play is that children don't have pre-existing fears or aversions to insects. Because of that, they could freely follow their curiosity to explore and investigate elements in this insect small world.
I also like the insect small world setups from Fun A Day, Childhood 101 and Play Adventures.
2) Farm Small World
The National Geographics Kids Farm Animals book provides an informative understanding of farm life and the types of animals living in family farms. It has strong content accompanying real-life pictures of farm animals, scaffolding literacy and vocabulary expansion in young readers.
In my setup, I used dyed uncooked green rice with the recipe from Happy Hooligans. The idea for my felt TP roll trees originated from Play At Home Mummy. I repurposed Melissa & Doug wooden food crates as enclosures and used animal figurines from Melissa & Dough farm animal set.
To extend play and learning, I did the following:
Added object filling and transfer tools to encourage natural play schemas and interest in fill and dump.
Introduced to my toddler the difference between domestic and wild animals. I added Melissa & Dough safari animal figurine set in a separate tub in the IKEA flisat table to contrast against the farm animals.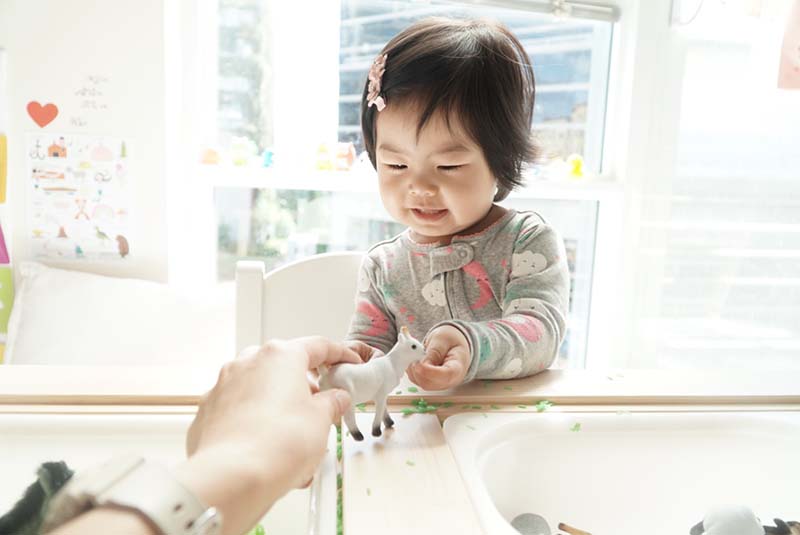 It was fun for my toddler to do pretend feeding of the farm animals and create stories about how they live their lives on the farm. We talked about how farm living for domestic animals was different from living in the wild.
I also like these realistic farm small world setups from Little World's Big Adventures, in The Imagination Tree, Pre-K Pages. For children in the oral exploratory stage, Messy Little Monster has a taste-safe setup.
3) Beach Small World
The 'Where is Baby's Beach Ball?' book by Karen Katz introduced my baby to the concept of a beach, long before she first set foot on one.
After a few real experiences to the beach and following her growing interest in sea creatures, I scoured books that contained more facts about sea creatures' habitats and lives. The National Geographic Little Kids' First Big Book of the Ocean was a terrific find. To learn about less common sea animals like otters, manatees and turtles, I also picked up National Geographic Readers: Ocean Animals Collection.
For my beach small world setup, I used expired ground flaxseed as play sand, which has a gritty and grainy texture highly similar to real sand.
The seashells were from Michael's while the sea creatures were from Daiso (realistic sea animal figurines from Enricoo and Schleich would be more suitable).
To provide opportunities for sand transfer, digging and filling, I included fine motor tools like a shovel, scoop and beaker.
Tips:
Add a small teaspoon of oil for the play sand to improve moldability into sandcastles.
With subsequent setups, try a shallow depth of sand sensory base so children could 'write' in the sand. A deeper sensory base allows children to hide items in the sand.
For children who take an interest in seashells, 'What Lives in a Shell?' book extends and explores the topic, allowing them to learn about creatures that make their homes in shells.
I also like the beach setups by Little World's Big Adventures, The Imagination Tree and Play Inspired Mum.
4) Community Town Small World
My toddler loved using navigating her Melissa & Dough community vehicle set all around this DIY small community town constructed from cardboard and TP rolls (she even brought a train in!)
Roads were made using black painter's tape and markings were drawn with a white Sharpie permanent marker. A minimal crafting option would be printing road free printables from Pickle Bums.
Play tips:
Bend the cardboard edges so vehicles that go off course stay within the perimeters of the small world.
Include features like a slope, tunnel, ramp, garage and parking lots for children to manuver the vehicles around town and create makeshift stories.
More learning opportunities could be incorporated into this small world play, for instance:
Numbers could be added to parking lots to improve number recognition
Color matching of parking lots to vehicles could enhance color learning
Learning about vehicles that travel through the air by adding a helipad for helicopters and runway for planes
Including a multi-storey carpark could be a great fine motor challenge and teach opposites like 'up' and 'down', 'top' and 'bottom'
Road signs could be added for children to learn road traffic rules
Community amenities like schools, hospitals, fire stations and police stations could be added so children could drive the vehicles to their corresponding workplaces and in doing so, learn about occupations
I also like the community town small world setups by Create with Your Hands and Buggy and Buddy.
5. Construction Site Small World
Through construction small world play, children learn and understand the unique roles of different construction vehicles. They are also introduced to an early notion of teamwork, that these construction vehicles have to work together to accomplish a goal -- be it constructing a new building or paving roads.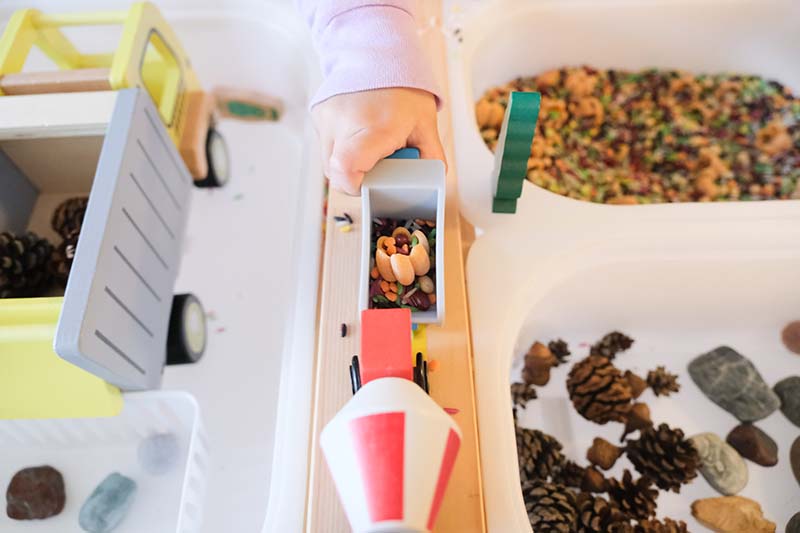 For my construction site small world setup, I applied yellow painter's tape around the IKEA Flisat table and drew markings in the middle to resemble roads. I made a tunnel underpass using a small cardboard box for construction vehicles to pass through.
While black beans would be more ideal to represent gravel or dirt, I used existing rainbow rice as my primary sensory base and added rocks and pom pom balls as additional load for the construction vehicles to move around. My toddler's construction vehicle set is from Melissa & Doug.
6. Dinosaur Small World
Dinosaurs are perennial favourites with children. The Smithsonian Kids: Digging for Dinosaurs board book is a great resource book with realistic imagery and information of dinosaurs, pterosaurs, fossils, and sea reptiles.
A pronunciation guide is included at the bottom of the page which is really helpful for learning how to verbalise complicated dinosaur names. My toddler enjoyed exploring the book's interactive elements like sliding tabs, spinner wheels and lift-a-flaps.
For my setup, I lined one of the IKEA Flisat table tubs with brown play dough for my toddler to make dinosaur 'fossil' imprints in.
I also sculpted dinosaur eggs using play dough to match one of the book's fun fact about some dinosaur eggs being the size of basketballs.
This was the perfect backdrop for the classic science experiment of baking soda and vinegar volcano. I made a volcano (hollow in the middle) out of play dough, placed baking soda into the hole and my toddler mixed red food coloring with vinegar to pour into the volcano.
The red sizzling and bubbling mixture oozing out of the volcano resembled lava. It provided a very memorable, visual and sensorial experience to learn about volcanoes. I talked about how dinosaurs no longer live in our world, with volcanic eruptions being a probable theory for their extinction.
7. Bakery Small World
My husband likes bread-making from scratch. My toddler likes to taste the end-product and observe the process. Sometimes, she requests to participate in the dough kneading process. To extend her interest in dough play and introduce her to richer vocabulary about her favourite carb, I created a DIY bakery small world for my toddler.
Yellow play dough was used to represent dough and tools for pretend weighing, cutting, rolling and baking were provided. Prior to the small world play, we read Playtown: A Life-the-Flap Book from which I pointed out the bakery and its role in the community -- to supply freshly baked bread to consumers.
So much went on in our activity conversation! We talked about the job of a bread chef and the bread-making process. I described the role of yeast in bread-making (it is a leavener that produces gas that makes bread rise), which became a lesson in science.
We molded, sculpted, twisted and worked on forming different types of bread using homemade yellow play dough -- bagels, croissants, white bread loaves and breadsticks.
It would be fun to challenge older children to make new bread inventions and name them!
This activity enhanced my toddler's understanding of how food is made and she really enjoyed being 'in charge' of the kitchen, issuing me instructions for meal prep, for a change. It was a great activity for boosting language development while having fun as well as fine motor skills with all the play dough manipulation.
8. Dog Park Small World
My toddler shouts "Dogs!" when she sees them out and about for walks with their owners. The Melissa & Doug Canine Companions set is one of her favourite animal figurine toys and she recognises the 12 dog breeds.
To encourage her love for dogs, nurture her interest in and understanding of dogs, I created a dog park small world. This dog park small world play allowed her to understand more about dog ownership, and explore relationships between people and their dogs.
I crafted a tiny makeshift leash from jewelry wire for the figurine dolls to walk their dogs. In doing so, I explained what a leash was and its use to my toddler.
We also talked about dogs' body language and how dogs communicate and express themselves (smelling, wagging their tails etc). A small ball was included in my dog park small world setup for the dogs to 'chase' after.
This was a lovely activity for my toddler to learn more about human's best friends and how we share our world and lives with these canine companions. I hope activities like such sparks a lifelong love for animals in my toddler.
9. Honeybee Small World
Bees are important in our ecosystem and there is so much to learn about these diligent workers. I created this honeybee small world to introduce the process of plant pollination and honey making to my toddler, in a hands-on and experiential manner.
I provided a few bee figurines for my toddler to act out a honeybee's daily life -- collecting and dispersing pollen from flower to flower and making honey in the honeycombs of the beehive. Through this end-to-end activity, my toddler gleaned a better understanding of how honey is made, harvested by beekeepers, bottled and eventually sold to consumers.
Children could also learn about the life cycle of bees through this activity. Homeschool Preschool has free worksheet printables about bees for preschoolers. The National Geographic: Bees and TIME For Kids: A Bee's Life are great resource books with vivid pictures and informative text for children to learn more about bees.
10. Campsite Small World
The great outdoors is terrific inspiration and fodder for imaginative play. There's no better place for children's imagination to run wild. Here's a way to bring inaccessible parts of nature indoor -- set up an indoor campsite.
An indoor campsite small world at home allows children to pretend to live in the wild, sight wild animals and forage wild plants -- all from the safety of home. They could learn more about what it takes to survive in the wilderness -- collecting logs for starting fires, finding shelter, seeking subsistence and hiding from predators etc.
My setup was easy -- a blanket draped over my toddler's Pikler Triangle, a campfire crafted from toilet paper (TP) rolls and crepe paper and a "In the Forest" National Geographic Kids book for topic exploration and learning.
Campfire songs and stories would be a great way to wrap up this campsite small world play.
Benefits of Small World Play
Small world play builds imagination through pretend play. Small worlds allow children to play the role of the "director" and autonomously develop their own ideas. During small world play, children get the opportunity to make logical connections in the stories they create ("The elephant is thirsty and has to find a watehole to drink water.")

Small world play enables learning about diverse ecosystems. Small world play allow children to experience varied environments and act out scenarios in them -- from the comfort of their home, in a safe controlled setting, that is not influenced by weather, illness, inaccessibility or geographical remoteness. Small worlds provide clear visual references and bring to life habitats and living environments children mostly read about in books. Through small world play, children could make comparisons to their own living environments, and understand diversity in ecosystems and life.

Small world play enhances emotional development. Small worlds provide children with opportunities to re-enact experiences and learnings from their lives. There is no right or wrong in small world play and children could freely and safely explore and experiment with emotions and act out scenarios (otherwise unattainable in real life) in their small world play.

Small world play sharpens reasoning and problem-solving skills. Children encounter all sorts of problems in small world play and have to use logic and critical thinking to find solutions ("Not all the bears fit in the den!") They apply knowledge learnt from books about habitats and animal behaviours to create stories and situations as they play.

Small world play fosters language development. While engaged in small world play, children take on character role-playing and vocalise what the characters are experiencing, building storytelling skills. In doing so, they might be able to apply nouns, verbs, adjectives and prepositions they know to meaningfully tell the story. Children could also associate new words learnt with tangible objects they are playing with, hearing and seeing in small world play.

Small world play gain real world understanding. Through experimentation and manipulation of objects, children learn physical properties of objects and material science. Children get to explore concepts and connect ideas, like how a person's home is different from an animal barnhouse and dive deeper to understand the reason behind the differences.
Note
Swallowed sensory materials present a choking risk, supervision of children is required during play.
Be mentally prepared for mess -- mixing of sensory materials, dumping of sensory fillers etc. You could minimise mess by trying the following -- place a shower curtain or large plastic sheet under sensory table, let the activity take place in the bathtub or backyard and lay down ground rules to children e.g. no throwing or scattering of sensory materials beyond a certain boundary
Interesting Small Worlds to Try
Small world ideas are inexhaustible! These are small world ideas for other fascinating ecosystems, like the ocean:
Hi! I am Yunnie. I am the newly minted mama to a little baby girl and a mum friend to everyone on this special (and many times scary) journey of motherhood. Also a graduated bride with a penchant for weddings.