From a young age, children exhibit intellectual curiosity, exploring things with their hands, observing how things work and doing trial and error until they make sense of things. We can tap on this natural interest and curiosity to help children better understand our world.
By introducing our children to science experiments early, children get to test out hypotheses, draw connections and reinforce existing knowledge. This sets children up for success in school by building analytical and reasoning skills as well as STEM knowledge.
Benefits of Early Introduction to Physics
Learning physics help children understand fundamental principles that describe and govern the physical aspects of the world we live in. Physics is utilised in every tenet of our everyday lives from the tools we use to predicting how things will happen with our actions.
A good foundation in physics allows for easier future mastery of more complex arenas such as engineering and programming.
10+ Child-friendly Science Experiments with Everyday Materials: Physics
Science experiments don't have to be complex or tedious. They can be DIY at home with everyday materials found around the house -- existing toys, repurposed household items and nature-based loose parts sourced from outdoors.
These are the 10+ child-friendly science (physics) experiments I have engaged my toddler in, using inexpensive everyday materials. What is the World Made Of? All About Solids, Liquids and Gases is a great resource book to explain basic physics to children whilst conducting these experiments.
1. Color-Changing Paper Towel Chameleon Experiment to Learn Absorbency
This creative color-changing chameleon experiment teaches children material science, specifically absorbency, in a fun and relatable way.
I was inspired by the protagonist in Eric Carle's The Mixed-Up Chameleon Book which was unsatisfied with its current appearance and underwent various physical transformations. This experiment would confer colors on the originally white paper towel chameleons.
The setup is pretty straightforward. First I cut out chameleon shapes from a paper towel. Then I filled containers with differently colored solutions. By placing the tails of the chameleons into the colored solutions, the paper towel chameleons soaked up the colors and were dyed a different color from what they were initially.
During the experiment, I encouraged my toddler to creatively brainstorm about the kind of environments the chameleon would be in to turn green/blue/purple e.g. the chameleon would turn green on the grass lawn, blue in a meadow of cornflowers and purple in grape vineyards.
Rich conversations during play help to boost language development and a deeper understanding of the topic.
Child-friendly science explanation: Paper towels are made up of cellulose fibers. Cellulose is a polymer made of repeating linked glucose molecules. Just like how easily sugar (glucose) dissolves in water, when the paper towel become wet from the colored solutions, water molecules rush in and cling to the cellulose fibers, turning the paper towel chameleons a different color quickly.
2. Pouring Station to Learn about Light & Opacity
This science experiment allows children to learn the science behind light and how that affects material opacity.
For the setup, I provided water in a tub and several containers with differently colored water (a few drops of food coloring added to each container) as well as high-fat milk. When the colored water is added to water in the main tub, it remains transparent. However when milk is added, water turns cloudy and becomes opaque.
You can drop a heavy item into the tub and engage your toddler in a game of hide-and-go-seek, while describing the milky water and explaining about opacity.
Child-friendly science explanation: Fats are one of the key components of milk, and it is fats that makes milk white. Fats are present in milk as tiny particles suspended in the milk due to homogenization. These particles reflect light, making the milky water appear opaque and dense.
You could explain further about how objects vary in how they transmit light e.g. transparent objects allow light to travel through them like air, water, and clear glass. Translucent objects like frosted glass and plastics allow some light to travel through them. Light changes direction many times and become scattered as it passes through so we cannot see clearly through them. Opaque objects like wood and metal block light from traveling through them.
3. Toy Bath Sink or Float Experiment to Learn Density
This easy, perfect-for-bathtime science experiment helps children learn about density.
For the setup, I filled a tub up with water and handed various items (toys, household items etc) for my little one to place into the tub and make her own hypotheses about whether they float or sink. Then she places the items in the water and we observe if the results matches her hypotheses.
Child-friendly science explanation: Whether an object sinks or float in a liquid depends on its density (which is the ratio of an object's mass to its volume). If an object has a higher density than the water it is in, it sinks. If it has a lower density than the water, it floats.
4. Oobleck Sensory Play to Learn States of Matter (Solid & Liquid)
Oobleck is a pressure-dependent substance, much like Silly Putty and quicksand and is known as a non-Newtonian fluid. Because of its unique physical properties traversing two states of matter (solid & liquid), oobleck sensory play provides great tactile fun for children.
The making of oobleck is super simple and created using cornstarch to water in a 1:1 ratio. For easy mess containment, I would recommend doing this activity in the sink.
This is optional but adds a theme and purpose to the sensory play. I added realistic penguin figurines to the oobleck to create a penguin habitat small world.
This oobleck activity provides the platform for children to investigate and learn the properties of liquids and solids, and ask questions about why oobleck behaves the way it does.
Child-friendly science explanation: Applying pressure to the mixture increases its viscosity (thickness). When you scoop oobleck up and squeeze, this action forces cornstarch particles together. When pressure is released, oobleck becomes molten as cornstarch particles disperse and become further apart. A fuller science explanation is available on Scientific American.
5. Balloon Exploration to Learn States of Matter (Properties of Gas)
Children love to hit, throw and swat at balloons we adults blow up or inflate. I would recommend to involve children in the inflation process of the balloon to learn more about the science behind.
This is because inflating and releasing of a balloon allows children to learn about the unique properties of gas, one of the three fundamental states of matter.
Child-friendly science explanation about Balloon Inflation:
Gas has distinctly different properties from the liquid and solid states -- particularly that gas does not have a defined shape, size or structure. Therefore, air (which is the gas that fills the balloon) takes the shape of the balloon it is in.
When we blow up a balloon, we force air molecules from our lungs into the balloon. Air molecules spread out and hit the inside walls of the balloon creating air pressure that forces the balloon to expand.
Balloon release:
Collision of air molecules with the walls of the balloon creates a higher air pressure inside the balloon vs. atmospheric pressure. When we release the balloon, air escapes the balloon to the surroundings from a high to low pressure state.
6. Floating Astronaut to Learn Magnetism
This setup requires an astronaut illustration, two strong fridge bar magnets and a plastic lid. I taped the astronaut illustration to one of the magnets, placed it above the plastic lid and then positioned the other magnet beneath the plastic lid.
As my toddler moves the magnet beneath the plastic lid, the astronaut 'floats' around in space, reinforcing her knowledge that there is no gravitational force in outer space.
Child-friendly science explanation: Magnetism is the way magnets attract other magnets (or other magnetic materials). Magnetism can work "at a distance". This distance, while invisible, is called a magnetic field. Explain that Stuff has a fuller explanation about magnetic fields.
7. Catapult Experiment to Learn about Energy
I was inspired by the DIY catapult made by Kids Activities Blog using a wooden spoon and toilet paper roll.
I created a similar handmade catapult using my toddler's existing toys -- a kitchen toy spatula and ladle, strapped to cylindrical wooden blocks, using 2 criss-crossed elastic rubber bands.
It took some fine motor practice for my toddler to hit the lever with enough force to catapult pom pom balls. Once she mastered it, there was no stopping her from catapulting anything that could sit in the ladle and spatula.
Child-friendly science explanation: When the lever of the catapult is pushed down, potential energy is released and converted into kinetic energy, sending the pom pom balls flying through the air.
Another great play extension for this catapult would be Chalk Academy's creative idea of catapulting pom pom balls into Chinese sight word holes to form sentences.
8. Elastic Band Toy Flicking to Learn about Energy
The setup of this elastic band system is simple. I poked holes in the parallel sides of a sturdy cardboard box using a craft knife, slotted the two ends of a snipped elastic rubber band through the holes and stapled the rubber band ends to the cardboard. Then I provided various items like wooden peg dolls for my toddler to 'flick' by stretching then releasing the elastic rubber band.
Tip: Help with children's positioning of the objects to flick by marking a 'x' on the cardboard.
Child-friendly science explanation: By stretching the rubber band backwards, we input potential energy into the rubber band system. When we release the rubber band, the potential energy is quickly converted to kinetic energy and transferred to the peg doll which collides with the rubber band. The energy transfer sets the peg doll into motion.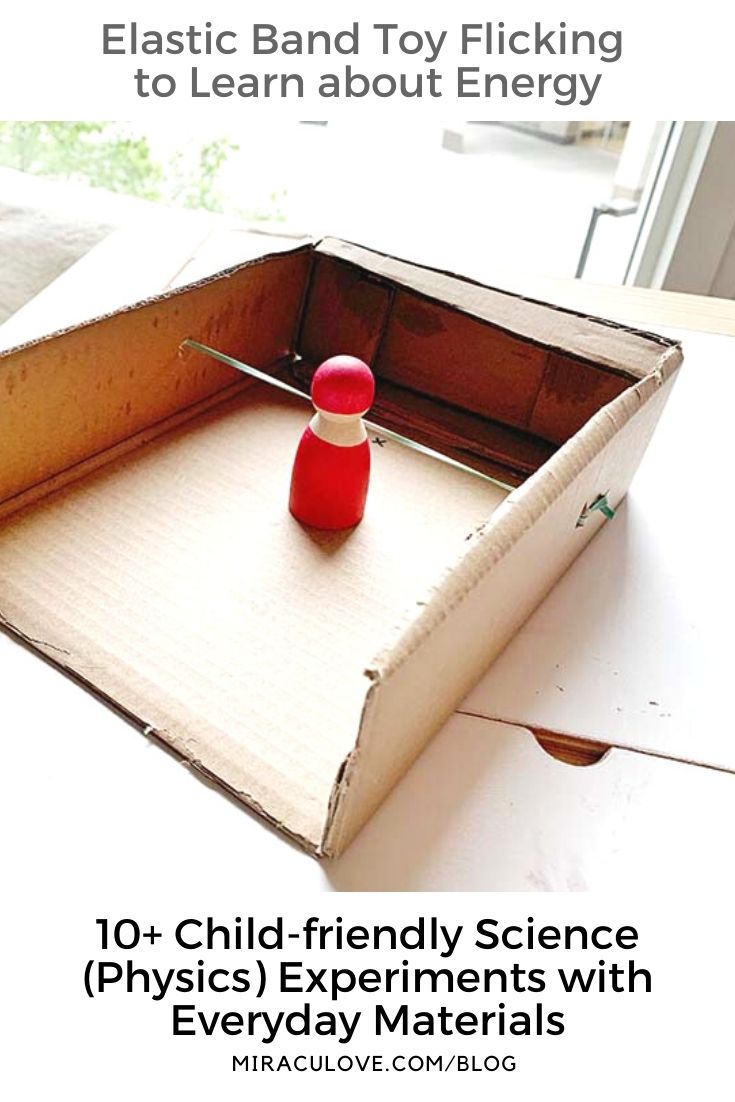 9. DIY Balance Scale to Learn about Weight & Gravity
When children use a balance scale and do weighing and comparing, they learn about the laws of gravity and physics. Go Science Kids has a brilliant tutorial for using hangers to make a DIY balance scale.
I created my version using my toddler's existing Melissa & Doug construction set and wooden cups from her peg doll set. I provided wooden peg dolls and small rocks for my toddler to place in the wooden cups to experiment with weighing and comparing.
Child-friendly science explanation: A balance scale is a device for weighing, with a balancing beam and two pans on the sides. When the pans hold the exact same weights, the beam is in balance. When the pans contain different weights, the beam will tip over to the side which is heavier due to gravity.
10. Plastic Bag Straw Poking to Learn about Polymers
The idea for this polymer science experiment originated from TIPL.
My adaptations:
I used diagonally cut straws instead of sharpened pencils in a bid to repurpose used straws.
I reused old grocery store plastic bags instead of new ziploc bags to reduce plastic waste.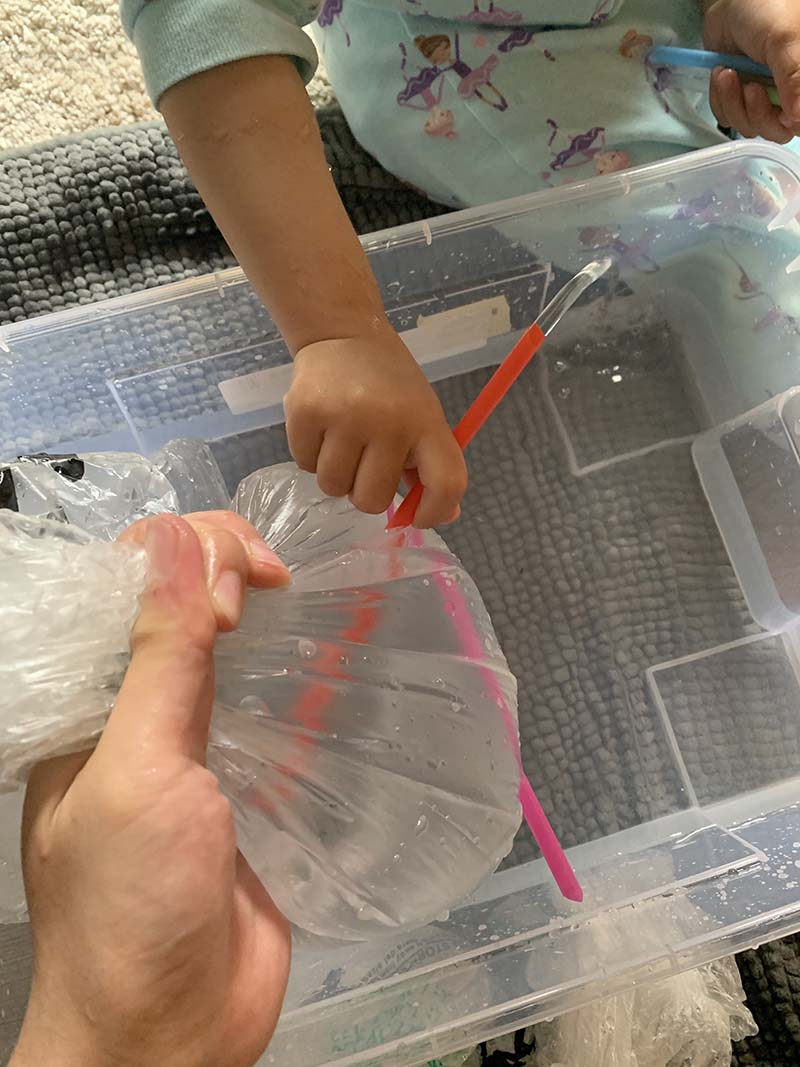 Child-friendly science experiment: Ziploc bags are made of plastic, a polymer. When we poke the sharp straws into the plastic bag, the straw tip slides in between the chain of molecules that make up the polymer. These molecule chains "close around" the straw, forming a seal around the straw that keeps the water in.
Note: Because a straw is hollow, when it first pierces the plastic bag, water quickly escapes through the straw. However when the straw comes out through the other end of the plastic bag, the "seal" kicks in and the water flow stops.
11. Tornado in a Bottle to Learn about Vortexes
My toddler noticed a vortex forming from water going down the sink and asked, "What is that?" Capitalising on this interest, I followed Science Kids NZ's tutorial to create a tornado in a bottle experiment so as to better explain the vortex phenomenon to her.
The setup is simple -- an old plastic bottle filled with two-thirds water and a few drops of dish washing liquid.
During the experiment, I was mindful to use a wide range of descriptive words like 'circular motion', 'swirls' and 'spins around' to describe the vortex. Rich language use helps to enrich children's vocabulary. I would also recommend to show children rich media of vortexes in real life, e.g. pictures or videos of hurricanes or waterspouts (a tornado that forms over water) to root this knowledge in reality.
Child-friendly science explanation: Spinning the bottle in a circular motion creates a vortex in the water due to centripetal force. It is a force that directs an object or fluid (such as water) towards the center of its circular path.
I hope your children enjoy these simple, hands-on physics experiments!
To follow my child-led, open-ended activity ideas, follow my Instagram, Pinterest or Facebook Group.
Hi! I am Yunnie. I am the newly minted mama to a little baby girl and a mum friend to everyone on this special (and many times scary) journey of motherhood. Also a graduated bride with a penchant for weddings.