Fresh flowers are popular gifts for birthdays, Mothers' Day and other special occasions. They are a perfect mood lifter, but I always feel wistful when they lose their lustre and vibrance.
I received two big, beautiful flower bouquets for my birthday. I repurposed the blooms in 10 different ways when they started to wilt, turning them into educational and sensory materials for Miss 3.
With all the learning and play benefits, it doesn't seem so much of a waste/pity!
10 Learn & Play Ideas to Repurpose Wilting Flower Bouquet
Flower Matching
This is a Montessori-inspired object to card matching activity. I prepared the activity while Miss 3 was awake, so she watched the full process starting with how the flower cards were printed.
I used a Polaroid Mint printer to print the object cards. I chose the classic Polaroid frame and added text beneath (flower name).
I love the eco-friendliness of the Polaroid Mint printer's inkless technology as well as its Zink paper.
It's fortunate that the birthday flowers I received have a wide variety of blooms and botanicals. I found out about apps like PlantNet which allows one to identify plants by photographing with the smartphone.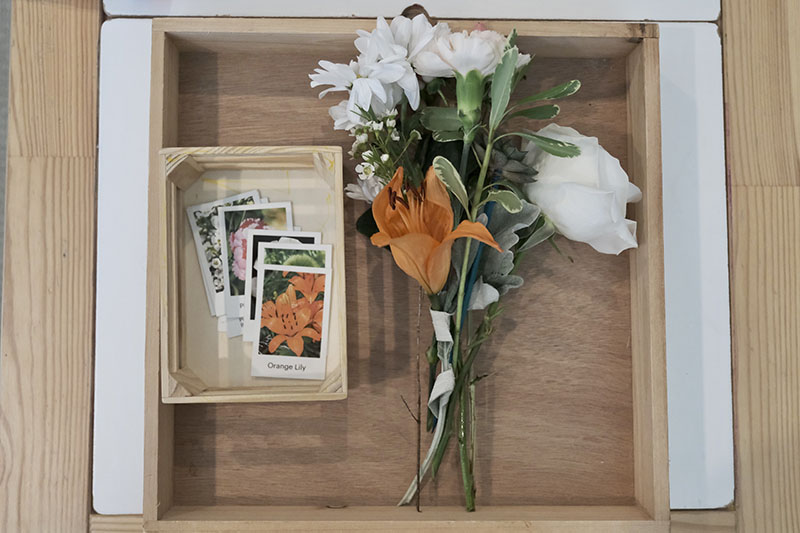 Initially I wanted to start with identification of 6 plants but Miss 3 was highly interested in seeing more cards printed, so we went up to 9 cards in total.
This activity is a great one to build interest in the world of botany, and enrich children's knowledge bank of flowers and botanicals through a hands-on matching activity. I learnt a few new flower names too!
Lots of sensory and tactile input from the touching, feeling and manipulation of the flowers.
I was surprised to see how easily Miss 3 matched the flowers to the cards. This activity sharpened her cognitive abilities to assess the different physical properties of the flowers.
We had a rich dialogue about the appearance, size, shape and texture of the florals and botanicals.
This is also a great activity starter for learning about flower and plant anatomy.
Flower Ice Cube Sensory Activity
When the flowers started drooping and petals fell off, I thought it was a good time for Miss 3 to touch, feel and even dissemble the flowers. Previously, she had mostly admired them from afar or used a select few for flower matching.
It's also a great opportunity for scissors practice. Miss 3 placed petals and parts of the flowers into an empty ice cube tray.
Then, she carefully added water. Tip: The flowers float in water, so place blooms facing up for a prettier visual effect.
We froze the flowers overnight and they were ready to play the next day.
I provided water and salt for Miss 3 to experiment with their effects on melting ice.
Miss 3 also spun the ice cubes along, tried breaking them to free the flowers, pushed them around the tray. Lots of open-ended play!
She even stacked the flower ice cubes into a tower!
Flower Spring Soup
This activity is the flowers' swan song. Essentially, all wilted flowers were dissembled and placed into this pretty pot of nature's goodness.
There's lots of chances to observe if the flowers float or sink, how their appearance and texture changed in water etc. Organic material science learning!
I also provided ladles, colanders, kitchen tools and even a mini kettle for Miss 3 to do pretend tea brewing.
Plenty of varied fine motor practice with the shredding, tearing, pulling, twisting and scissoring!
Pressed Flower Suncatcher
The idea of a pressed flower suncatcher is from @rainbowsandfireflies. I didn't have clear contact paper, so I used cling wrap initially. Cling wrap couldn't really be tightened at the seams, so subsequently I upcycled a plastic sheet from product packaging.
It's such a pretty piece that I'm using it as home decor!
The suncatcher provided Miss 3 with the open-ended free expression of selecting different colors of petals to place in the embroidery hoop. In the process, we discussed colours and texture.
Holding the suncatcher up against the sun also provided the opportunity for a dialogue on sunlight passing through different mediums and shadows.
Regrowing
Thanks to my seasoned botanist friends, I learnt that succulents are easy to propagate and can do so without roots! I was really happy to find a succulent in the midst of my flower bouquet. It didn't have roots and the florist propped it up with wire on a popsicle stick. I was sceptical that it could be propagated but it's doing well!
Miss 3 helped to place the succulent into a small container of water. Its roots are extending. Within a few days, we can transplant it into soil!
I found this website with a tutorial on how to regrow already cut flowers and another website on types of plants that can grow from cuttings.
Composting
After we were done with the flower soup and flower ice cubes, we buried the petals in our backyard's soil. I explained to Miss 3 about how the flowers would biodegrade into the soil and return to nature as nutrients.
In the future we might do a worm compost bin! These flower petals would make a good feed to the worms.
Potpurri
Dried petals from flowers with strong natural scents (like rose and lavender) make great potpurri, for perfuming the house.
Some essential oils can be added for a stronger fragrance, especially if the area for scenting is large.
Home Decor
I like the rustic look of dried twigs and branches as home decor.
This is what I did to beautify Miss 3's grooming shelf.
Dried Flower Cards
Probably not for mailing as dried flowers are fragile, but dried flower cards are great for gifting in-person. Kraft paper, art supplies and some twine - dried flower cards make great Mothers' Day, Fathers' Day and even birthday cards!
Children would love drawing the vases or grass pastures or gardens for the dried flowers, and stick them on using glue or washi tape. Miss 3 helped to fill in the water level for the vase I drew.
This is an environmentally-friendly and naturally beautiful way of using dried flowers to make special occasion cards.
Flower Arrangement
Flower arranging is a Montessori practical life skill and lesson for children. It helps children create an aesthetically inviting environment for their work and play, connects them with nature and builds their fine motor skills (scissors use).
Stems from long flower bouquets can be trimmed to fit shorter vases, children can practise pouring water into flower vessels, and learn spatial relationships between objects by fitting flowers in vessels of different shapes and sizes.
I hope these ideas are helpful when you receive fresh flower bouquets and wonder what you can do with them right they wilt! Happy flower play, little ones!
Hi! I am Yunnie. I am the newly minted mama to a little baby girl and a mum friend to everyone on this special (and many times scary) journey of motherhood. Also a graduated bride with a penchant for weddings.