I read a lot to my little one, pointing to book titles and content as I enunciate each word. When I first noticed my toddler taking interest in letters (by pointing at them in books and looking up for connection), I took these cues to begin introducing the alphabet to my toddler. She was around 16-18 months at that stage.
There are numerous ways of teaching the alphabet. No surprises there - I aligned my way as closely I could to Montessori and also created a wide range of fun, sensory activities to support my toddler's letter learning.
Montessori Way of Teaching The Alphabet
- Phonetic sounds before letter names
The Montessori education teaches phonetic sounds before letter names not in their order within the alphabet but in the order that allows children to form words with the letters learnt.
- Lowercase before uppercase
The Montessori way also starts children on lowercase characters before uppercase because children encounter lowercase letters more often in books and everyday life. These lowercase letters are also introduced in cursive font instead of printed letters, which eliminates confusion caused by similarities of certain uppercase and lowercase letters, thereby resulting in stronger letter recognition.
Additionally, Montessori classrooms provide hands-on, multi-sensory activities to support children in alphabet letter learning. Sensory inputs from the activities help children's brains create stronger connections to the information and enhance memory retention.
12 Sensory Ideas for Toddlers to Learn Alphabet Letters!
At 23 months, my toddler can remember alphabet letters, repeat phonetic sounds as well as visually discriminate most lowercase letters from uppercase ones. As such, I created 12 fun sensory activities to reinforce and extend her learning of the alphabet letters.
1. Letter Gluing
This idea came from my mom friend, W. Birthday cards are great keepsakes to craft for family and friends through this activity.
Steps to setting up this simple letter gluing activity:
Cut out colored letters of desired words from construction paper
Trace the letter outlines on card stock
Provide a glue stick
Gluing is a great fine motor activity for toddlers. Glue is a fascinating element that toddlers would enjoy exploring, investigating and learning how it works, which provides an early introduction to material science.
2. Chicka Chicka Boom Boom Bookish Play
'Chicka Chicka Boom Boom' by Bill Martin Jr. is a fun, rhyming book about letters of the alphabet climbing and falling off a coconut tree.
It introduces the alphabet letters in an appealing way to my toddler which holds her attention better than the regular formal-looking, informative alphabet books. The downside is that the book isn't Montessori-aligned as it is fantasy-based, using abstract graphics and non-existent words.
For this activity, I made a drawing of the coconut tree and placed wooden alphabet letter puzzle pieces in a wooden crate to its left. My toddler intuitively took the puzzle letters out and pushed them up the coconut tree, naming the letters and saying aloud their phonetic sounds in the process.
Language development could be enhanced through rich use of vocabulary during this activity. Use a variety of action words to describe how the alphabet letters move, such as 'climbing', 'scaling up', 'falling off', 'sliding off' and 'hanging from' the coconut tree.
3. Dot Stickering Letters
Measured Mom provides free dot sticker printables which would be great to use for this activity! The printer-less me had to illustrate my own version.
This activity refines toddlers' fine motor skills at the same time it reinforces their recognition of alphabet letters.
It also makes for great counting and one-to-one correspondence practice, honing early math skills.
4. Alphabet Ice Play
This bath activity is perfect for water-loving toddlers. Freeze puzzle letters in bowls and ice trays for a couple of hours before introducing the ice cubes to little ones' baths.
'I Spy' (e.g. "I spy a red A, could you rescue it from the water?") is a great game to play during this activity that promotes two-way interaction, conversation and stronger memory retention of the alphabet letters.
You could also provide your toddlers with ice-breaking tools and turn this activity into a science lesson to learn about temperature, melting points and states of matter.
5. Play Dough Letter Stamping
Hot glue letters onto recycled bottle caps and let your toddler stamp the letters all over play dough! Remember to write the mirror image of desired letter in glue, so the letter isn't horizontally inverted when stamped onto play dough.
These letter bottle caps are great to include permanently into your toddler's play dough tool kit set.
For older children, this activity can be extended to word formation. Words stringed from letters can be imprinted onto the play dough base.
6. Alphabet Ball Run
This alphabet ball run box could be made from a recycled cardboard box with a wide base, cut toilet paper (TP) rolls with letters written on them and tape.
Credits to the inventor of this ball run box idea (not me!) I apologise for not remembering the source, please reach out to me if you know who it is so I could provide the full credits.
I adapted this fantastic idea to alphabet learning and added the modification of little letter 'potholes' for this ball run box.
This alphabet ball run box could be played by lifting the box and tilting the box to make the ball roll about, or laying the box on the floor and manually pushing the ball around.
Encourage your toddler to say the phonetic sound and letter name aloud for the alphabet letters that come into contact with the ball. This is also a great activity for language development as rich vocabulary describing the ball's actions around the box could be learnt.
7. Mystery Letter Painting
This mystery letter painting activity utilises the resist art technique whereby paint repels the crayon mark.
Before the painting session, give your toddler a hint about the mystery letter and have her guess the letter. Then, enjoy a fun painting session to reveal the mystery letter.
Tips:
Use watercolor paint which repels the crayon mark more effectively than acrylic paint
Use darker colors which reveal the mystery letter crayon marks more clearly
8. Beginning Phonetic Sound Matching
This activity was created using Learning Resources Alphabet Acorns, a useful gift from my mom friend, A.
My toddler and I practised the phonetic sounds for the letters on the acorn. Then, I named the miniature figurines in the crate as I pointed to them. Finally, I encouraged my toddler to match the figurines to the letter acorns based on their beginning phonetic sounds.
I used the Patty Shukla's youtube video to learn phonetic sounds for the alphabet.
These acorn toys are useful for color matching as well.
9. Trace & Flip Alphabet Book
I used A is for Apple (Smart Kids Trace-And-Flip) by Tiger Tales for this activity. I like this book for its large, grooved letters which children could trace by running their fingers along the arrowed indentation. The tactile input from tracing the indentations in the book help to boost children's recall of the alphabet letters.
On her own initiative, my toddler frequently retrieves this book from her shelf and proceeds to trace the letters for 10-15 minutes.
My only grips are that the uppercase letters can be traced in this hands-on manner (which is at odds with the Montessori way of teaching lowercase before uppercase letters), and the limitation that only one object association is depicted for each alphabet letter.
To overcome these limitations, I recommend a follow-up to this activity with a Montessori-aligned salt writing tray to practise lowercase letters and a beginning phonetic sounds basket to introduce more items per alphabet letter.
Living Montessori Now has good recommendations for Montessori-aligned alphabet books.
10. Play Dough Letter Tracing
Dr Montessori believed "what the hand does, the mind remembers". Concrete, hands-on materials make abstract symbols like alphabet letters real, and enable them to be internalized more easily.
Steps to setting up this play dough letter tracing activity:
Write alphabet letters on paper in large font (I recommend writing the lowercase letter in cursive script instead of print to be more aligned with the Montessori way)
Provide play dough. You might like to setup half-traced play dough to show your toddler tracing could be done and entice her to complete the undone tracing
11. Alphabet Cardboard Puzzles
These alphabet puzzles are easy to make -- write uppercase and lowercase letters on cardboard in white ink and cut them into puzzles.
I love that these puzzles are self-correcting and children could develop a sense of mastery after ample independent exploration and experimentation.
For older children who have mastered ABCs and differentiation of uppercase from lowercase letters, you could make this activity a timed challenge to hone reflexes and quick thinking.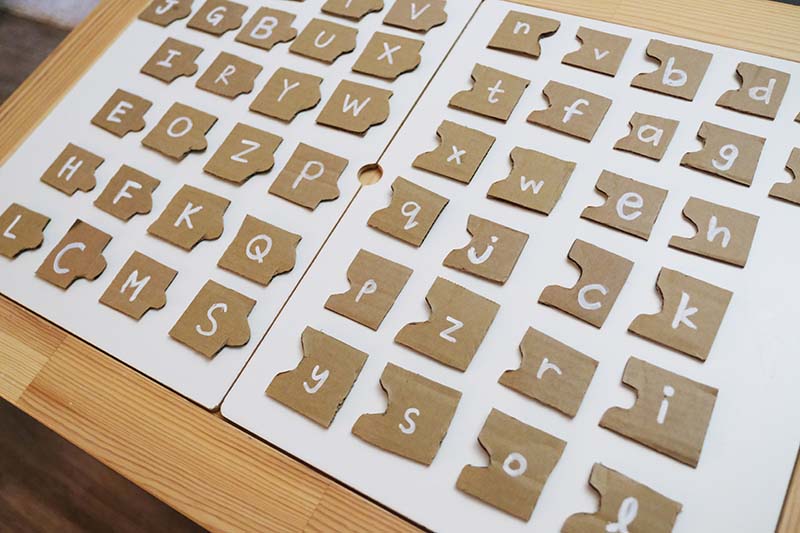 12. Alphabet Velcro Learning Board
This alphabet velcro learning board is fairly simple to set up. Velcro Flash Kids alphabet letter flash cards on a large board and secure the board to a wall.
I spent a long time before landing these flash cards because most alphabet flash cards are cluttered and show letters with their object association. These are vibrant and simple and come in sets of 3 (uppercase, lowercase, and a set with words matching the picture, with all sets bearing the same picture on the back).
The adhesive nature of velcro is fascinating for children to investigate, explore and observe. The loud 'crunchy' sounds of velcro and the tactile resistance from pulling stimulate their senses.
I say the phonetic sound for each letter aloud as my toddler pulls it off the board. You might like to alternate between velcro-ing uppercase and lowercase letters on the board to reinforce children's learning of both.
This alphabet learning board also makes a great fine motor activity. Older children might enjoy sticking the letters back in alphabetic order while singing the ABC song.
Other Fun Alphabet Learning Ideas
I hope your toddler enjoys these 12 Montessori-inspired sensory activities that reinforce alphabet letter learning!
Hi! I am Yunnie. I am the newly minted mama to a little baby girl and a mum friend to everyone on this special (and many times scary) journey of motherhood. Also a graduated bride with a penchant for weddings.