I believe that the best classroom is one without walls, in the heart of nature. Being outdoors provides a rich learning environment for my baby. I'm fortunate to live in Seattle where we are close to farms, mountains and national parks. The Montessori approach believes in honing children's senses through nature exploration.
As much as I try to bring my baby outdoors everyday, the Seattle weather isn't always agreeable and sometimes bouts of sickness keeps us home for longer than I like. For stay-home days, I typically plan Reggio Emilia inspired sensory provocations for my baby.
These sensory provocations encourage independent discoveries, reinforce cause and effect learning and inspire my baby to form open-ended conclusions about the world around her (as opposed to being told what exactly something may be). Reggio Sensory Provocation is about letting children experience the world for themselves through open-ended activities without overt guidance from a teacher or parent.
In these sensory provocations, I tend to use nature-based elements, everyday household items, and repurposed materials. These are the 13 top open-ended sensory play activities I have tried with my baby:
Using water as a play element
1. Toy Bath
Steps for preparing a toy bath:
Pick toys which are waterproof (or water-resistant) and place in a shallow tub with water. DUPLO Lego bricks and dining utensils are great options.
Lay out a large absorbent bath towel beneath the tub. The tub of colorful toys makes an appealing invitation to play.
(Optional) Have little one wear a poncho to prevent her from getting too wet during play. For older children, you can add tear-free soap bubbles.
This activity encourages babies to learn about the properties of water as well as basic concepts of material science. They can draw their own conclusions by observing:
which object(s) float or sink,
which object(s) absorb or repel water
which object(s) can be used as vessels to contain water
My baby enjoyed tasting the toys and taking the items in and out of the pails to make sense of them and how they behave in water. To extend play, I added a new kitchen sponge into the water and demonstrated squeezing.
2. Ice Bath
Children rely greatly on their sense of touch in sensory play. Touching ice cubes is a highly stimulating experience because of its coldness.
Steps to preparing an ice bath:
Freeze ice cubes (Tip: Use bigger ice trays. Larger ice cubes don't melt as quickly and play time can be longer. Also, it's safer for children to mouth and gives you time to replace melted small ice cubes with larger ones)
Add some water so the ice cubes can clink around in the tub
Put tools for object pouring and transfer into the tub. A soup strainer's great to include for separating ice from water
My baby enjoyed enjoying the sensation of coldness in her mouth.
To increase the challenge of this activity for older children:
Add blue food colouring to construct an underwater scene e.g. Atlantic City
Freeze small toys within the ice cubes for little one to think of ways to break/melt the ice and 'rescue' them
Supervision is required as ice cubes could be swallowed and present a choking risk.
Using food as a play element
3. Lemonade Stand
I replicated @whatshallweplaytoday's lemonade stand activity for my baby's first taste of lemon!
I love how the addition of lemon made a refreshing twist to my baby's usual water play. It engaged her sense of taste and smell and reinforce her recognition of the lemon fruit in books with a real-life sensorial experience.
Steps for this taste-free lemonade stand activity:
I cut up half an organic lemon into thin slices.
I also froze some lemon slices in ice cubes so there's a problem-solving element to the activity as my baby tried means and ways to break the ice to get the lemon out. (Tip: Don't freeze the lemon slices for too long so only a thin wall of ice is built up and the ice cube can be cracked easily by baby hands).
I also included tools for pouring, filling and transfer as well as the book we usually read that shows a lemon.
During the sensory play, you could use a rich vocabulary of words to describe the smell and taste of lemons! I used the following words:
Sour (酸 / Suān)
Bitter (苦 / Kǔ)
Acidic tasting (強烈的酸性味道 / Qiángliè de suānxìng wèidào)
Fresh citrus smell (新鮮柑橘味 / Xīnxiān gānjú wèi)
Cool and refreshing lemonade (清涼爽口的檸檬水 / Qīngliáng shuǎngkǒu de níngméng shuǐ)
Other sensory activities I'm thinking of trying that use lemons: Bright and Sour Sensory Bin by Days with Grey, Lemonade Sensory Soup by The Chaos and the Clutter, Citrus Sensory Bin by The Chaos and the Clutter and Summer Lemon Scented Rice Sensory Bin by Little Bins for Little Hands.
4. Noodle Play
This is a taste-safe sensory play activity for babies who love mouthing objects and exploring new textures.
Note: I was mindful to keep food waste to a minimum for this noodle play activity. I didn't want my baby's takeaway to be that we have an overabundance in food so food can be 'toyed with' -- not when many people in the world still live in hunger. Therefore I used unseasoned noodles that eventually became my dinner in this sensory activity.
How I prepared the noodles for sensory play:
I boiled pasta and vermicelli noodles in water till semi-soft. Not too soft such that they break into pieces when you handle them, yet not too hard for baby to chew through if she samples it. (Tip: I found that adding a teaspoon of vegetable oil into the boiling water prevented the noodles from becoming sticky. Alternatively, you could also douse the noodles in cool water after they've been boiled for a more springy texture).
Sieve the water out and pat the noodles dry before use. (Another tip: Stick a clean baking mat under the play surface for easier cleanup).
Quite early into the activity, my baby decided she preferred the texture of rice vermicelli noodles to pasta and picked vermicelli noodles out to exclusively play with them. She swung them into the air (like a Chinese noodle-making master), broke them into shorter strands and tasted them.
5. Watermelon Jelly Bowl
Jelly makes for a wonderful sensory play experience, it's soft, mushy, gooey and messy. It is also transformative so children can literally smash jelly up and turn it into a melty liquidy mess. I love how it is not only taste-safe but yummy and fibre-packed for little ones.
I made my jelly in a watermelon bowl for stronger fruit and taste recognition. Also in a pumpkin bowl since it was in-season.
Steps to making the watermelon jelly bowl:
Scoop out watermelon flesh and blend. Add water till you reach 4 cups worth
Add gelatin to 1 cup of watermelon juice
Bring the other 3 cups of watermelon juice to a boil and then pour over the 1 cup of juice with gelatin. Stir till well-mixed
Place in fridge for at least 3 hours (or overnight) to set the jelly
Provide tools for scooping and object transfer
Play tips:
Balance the watermelon jelly bowl on a small bowl so it stands without toppling over
Hold the watermelon bowl upside down to show how the jelly resists gravity! That can be a wow factor for older children. You can explain about the watermelon jelly solidifying and having adhesive properties that makes it stick to the watermelon rind.
6. Vegetable garden sensory bin
I created this activity twice for my baby, once using toy vegetables and another using real vegetables pre-dinner. Both went well and my baby enjoyed pulling out and putting back the vegetables into the bin, but the latter definitely gives a more realistic and sensorial experience.
Pictures from the attempt using toy vegetables:
Steps to creating a vegetable garden bin:
Place pretend soil into a shallow bin. I used black glutinous rice. I would also recommend ground flaxseed or blended graham crackers as taste-safe options.
If you're using toys, pick vegetables like carrots, garlic and potatoes which grow in the soil. If you're using real vegetables, wash and trim off the stalks before use
(Optional) You could add toy gardening tools like a shovel and a book about vegetables to reinforce learning
The 拔萝卜 Chinese nursery song made a perfect accompaniment to this vegetable garden bin sensory activity.
拔萝卜,拔萝卜。
(Bá luó bo, bá luó bo / Pull the carrot, pull the carrot)
嘿哟嘿哟,拔萝卜,嘿哟嘿哟,拔不动。
(Hēi yō hēi yō, bá luó bo, hēi yō hēi yō, bá bù dòng / Heave-ho, heave-ho, pull the carrot. Heave-ho, heave-ho, I can't pull it out.)
小妹妹,快快来,快来帮我们拔萝卜。
(Xiǎo mèimei, kuài kuài lái, kuài lái bāng wǒmen bá luóbo / Little girl, come quickly, come to help us pull the carrot out.)
Note about the *: Replace with other subjects like 老奶奶 (Lǎo nǎi nai / Old granny), 老爷爷 (Lǎo yé yé / Old grandpa) and 小花猫 (Xiǎo huā māo / Little cat).
My baby enjoyed imitating my carrot tugging motion and kept rocking her body back and forth in laughter.
This activity can be made more educational for older children who can learn:
How seeds grow into plants
About the types of vegetables that grow in the garden
About the bugs and critters that can be found in soil
Whether certain garden insects are helpful or harmful to the plant growth
Pictures for the attempt using real vegetables:
Definitely more realistic looking! (Tip: If you're using ground flaxseed or blended graham crackers as pretend soil, keep the carrots dry during play so the soil doesn't adhere to the carrots!)
7. Taste-safe (Nutritious!) Sand
There are many online tutorials on how to make edible sand for sensory play, like ground oats, graham crackers etc. I discovered another option which can be consumed raw -- FLAXSEED! Not only is it edible, it's highly nutritious and yummy, with a rich nutty flavor.
Because of that, I let my baby help herself to copious amounts of edible sand throughout this activity.
The downside is that flaxseed is more costly than the other options. I recommend this activity if you have expired flaxseed or flaxseed near expiration date. To maximise its use, I stored the flaxseed in a cool, dry place and it lasted several months for repeated play.
Steps to prepare this edible sand sensory activity:
Fill a shallow tray with ground flaxseed (you can ground whole flaxseed using a food processor)
Provide tools for object pouring, scooping and transfer
To make the activity more challenging for older children:
Hide objects in the sand and ask your toddler to locate them
Trace letters or numbers in the sand and ask your toddler to identify them
Build sandcastles! (Add coconut oil or just any form of edible oil into the ground flaxseed. That would make it moist enough to take the shape of the containers.)
Other edible sand variations: Flour-based Edible Sand Sensory Play by Bumkins, Cracker Edible Sand Sensory Activity by Happily Ever Mom and Corn-based Edible Sand Sensory Activity by A Little Pinch of Perfect.
Using recycled materials
8. No-sew Ribbon Wand
When my baby started using her fingers to grasp, hold, press, and developed a pincer grip (holding an item between the fore-finger and thumb), I made her this DIY no-sew ribbon wand to wave about, stroke the lengths of the ribbons, clump them up and separate into individual strands. I love how this activity combined a sensorial experience of ribbon play with a fine motor workout.
Steps to making a DIY no-sew ribbon wand:
Twist and fit equal lengths of ribbons through a thick, transparent bubble tea straw
Tape ribbons to one end of the straw. Let the ribbon on the other end be long and flowy
The length of the ribbon wand is a personal preference, so are the colors used. For a stronger sensorial experience, a variety of ribbon textures can be used.
For older children, you can find creative uses for these no-sew ribbon wands:
Cheerleading
Pretend sparklers for firework nights
Birthday celebrations
A dance performance! Don a tutu to complete the outfit
9. Glueless sensory bottles
I love how sensory bottles provide great visual stimulation for babies and have a therapeutic effect on them. Sensory bottles are known for easing anxiety, calming down children and sharpening their focus.
It seemed wasteful to me to use a lot of materials into the sensory bottles for aesthetic purposes, so I scaled down the ingredients and used a recycled VOSS Artesian plastic bottle for the sensory bottle.
Steps to making these simple yet appealing sensory bottles:
Cut recycled straws into short lengths
Place straws and glitter into each recycled plastic bottle. You can change the hue of the water by adding some food coloring which may enhance the glitter effect (e.g. I tinted the water pink for silver glitter)
Add water into the plastic bottles and close tight. You can seal with tape if you like
Let the sensory bottle exploration take place in a brightly lit place (e.g. near the windows).
The downside to not including glue to the water is that the glitter sinks faster in pure water. In a glue/water sensory bottle, the glitter settles slowly for children to better observe the dramatic settling effect. The upside of doing away with glue so that you can easily empty the plastic bottles and update with new sensory items.
Sensory bottles can take on themes too! I particularly love these: Rainbow galaxy themed sensory bottles by Rhythms of Play and glow in the dark sensory bottles for nightime by Teaching Mama.
10. Cardboard Play Tunnel
An ordinary cardboard can be transformed into a crawling tunnel with some imagination for an active, adventure-seeking baby!
Steps to creating a cardboard play tunnel:
Save an empty cardboard box that's the right height and size
Open and tape the flaps to each other so the box is secure and doesn't collapse easily on your child
If the box is still flimsy despite best taping efforts, prop it upright against a wall and a chair (that's what I did!)
Decorate the box with interesting items for additional sensorial fun (I taped colourful ribbons at the "entrance" and put sensory shakers and balloons in the box)
To up the ante on sensory, line the crawling path with different textures like aluminium foil or even bubble wrap!
This activity helps babies in motor planning and gross motor skills which is crucial as they try to master movement and develop better spatial awareness. Hand-eye coordination and balance are also enhanced. All these movements prepares babies for advanced physical activities like kicking a ball and turning cartwheels.
Using household items
11. Treasure Baskets
Treasure baskets are a great example of heuristic play, which is about children manipulating familiar, everyday objects in different ways to understand the world around them.
I found it really fun to put together treasure baskets, walking around the house to gather random items with different textures, sizes, appearances and materials.
Steps to putting together a treasure basket for babies:
Use an open-top basket with a size that can hold several items. I chose a round one so my baby could access the contents from all angles made with a soft crocheted material.
In the basket, I chose objects that were interesting yet safe to look at, feel, shake and taste. Some of the items don't serve any functionality. It was interesting to see my baby manipulate the items in various ways. I avoided including objects of small sizes that might be choking hazards.
Position the basket somewhere relatively free of other clutter or distractions so baby can focus on investigating its contents.
Supervision is required during babies' treasure basket exploration.
Tips for increasing the appeal of the treasure baskets:
Update the basket regularly to keep it fresh. It is easy to tell when baby is bored of the items -- they get thrown out without so much as a second glance.
You can trade the basket for a box with a lid for added fine motor workout
Keep the treasure basket out of sight when not in use so it's 'as good as new' when taken out again
I enjoyed putting together this metallic themed treasure basket. Of the items, my baby found the CD-rom and makeup case to be most fascinating.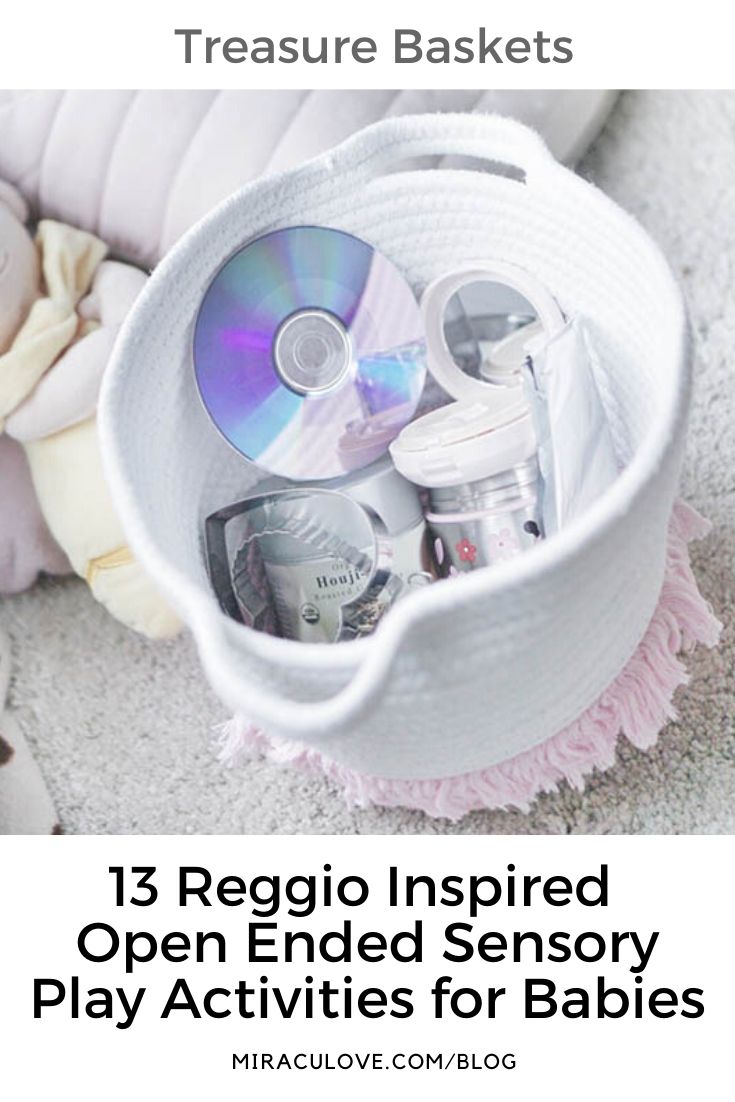 12. Kitchen rock band
The kitchen is a fascinating place to be for little ones. Why, it's an orchestra waiting to happen! There're plenty of noise-making utensils and tools in the kitchen for drumming sensory play.
Drumming out a tune is beneficial for babies and toddlers because it teaches them rhythm and they can practise moving their hands and bodies to the beat.
Children seem to drum naturally. They will instinctively knock pots and pans on the floor or hit them with a spoon. They shake objects, relishing the noise and rhythm they make.
Research has found that regardless of the age or stage of children, they can drum, with or without real musical instruments. Because children are highly sensory, drumming enhances their senses of hearing and touch.
Steps to creating a kitchen rock band:
Forage noise-making utensils from the kitchen like metal pots and pans, spoons, spatulas and food tins
Be creative! Snack packs make good shakers
I demonstrated drumming with a metal pot and spoon. I made some loud sounds, and some soft ones, to teach the difference in volume. I also demonstrated the difference in speed. Beat the drum fast, faster, and very fast. Slow, slower and very slow.
To extend play and reinforce learning, I also sang nursery rhymes about speed such as:
The Snail and The Mouse

Slowly, slowly, very slowly
Creeps the garden snail
Slowly, slowly, very slowly
Up the wooden rail

Quickly, quickly, very quickly
Runs the little mouse
Quickly, quickly, very quickly
Back inside his house
(Repeat)
These drumming sensory play activities encourage careful listening, exploration, and concentration.
13. Balloon Play
Balloon play can be done in a myriad of creative ways:
Balloon Swatting: Best played with household tools with handles. I used a badminton racket and a kitchen colander.
Balloon Pit: I used a laundry basket. I think a cardboard box would work really well too! My baby loved tossing the balloons out repeatedly.
Balloon Basketball: For babies who can stand without support, this is a great activity. I fashioned a makeshift basketball hoop from cardboard and clear plastic bag, positioned the diy basketball hoop low and taped it to a drawer handle.
Balloon Soccer: I turned a laundry basket on its side to serve as a makeshift goal post and demonstrated kicking balloons into the basket.
Balancing Balloon Tower: This made a nice challenge for my baby as she tried means and ways to balance the balloons on TP rolls! She gave up after a while and enjoyed knocking over the balloon towers.
Benefits of Open-ended Sensory Play Activities
Sensory play is exploratory learning at its best. There is so much to observe, learn and process about new objects and properties and children experience all that through their senses
Sensory play builds self-esteem since there is no right or wrong way to play with the materials and children can experiment and do trial and error testing freely
Sensory play provides the opportunity to hone motor planning and motor skills as well as hand-eye coordination
Sensory play boosts brain development
Enjoy these open-ended sensory play activities!
Hi! I am Yunnie. I am the newly minted mama to a little baby girl and a mum friend to everyone on this special (and many times scary) journey of motherhood. Also a graduated bride with a penchant for weddings.