As Singaporeans temporarily living in the States, my little family travels quite a fair bit, be it domestically to sightsee new landscapes or internationally back home across the Pacific Ocean. Our first long-distance travel was when Miss 22 months was 10 months old, flying 20ish hours from Seattle to Singapore with a transit in South Korea.
Travel is our way of bonding as a family and with others, to go on new adventures, and to make memories. It is incredibly difficult to travel with a young one (don't even get me started on jet lag), but we try to tough through the hard parts and relish in the joy of exploring new places.
How have I kept boredom at bay for my active young toddler on long hours of travels? My means are inspired by the Montessori way of fulfilling toddlers' needs for their little minds and hands to be constantly engaged.
"He does it with his hands, by experience, first in play and then through work. The hands are the instruments of man's intelligence." (Dr. Maria Montessori, The Absorbent Mind)
These are 5 shoebox-sized small worlds I had created using upcycled materials that enabled my toddler to immerse in imaginative play while we were on the go. Now lengthy plane flights or car rides could be made interesting too!
5 Engaging Shoebox Sized Busy Boxes for Toddler Travel!
I chose the diverse themes of practical home life, dolls, vehicles and animals for my shoebox-sized small worlds. I labelled the components of the small worlds in Chinese as it is my 2020 new year resolution to incorporate more Chinese learning for Miss 22 months. I had been inspired to create a print-rich environment by Chalk Academy, which explains how exposure to a print-rich environment promotes literacy in children!
1. Wardrobe Shoebox-sized Small World
Self-care and personal grooming is a big thing for my toddler as she approaches the 2 year mark.
She's now capable of doing many things independently, such as putting on her clothes, shoes and socks without help as well as some aspects of laundry. She loves depositing used clothes into the laundry basket, helping me to load dirty laundry into the washing machine and pressing the 'start' button to run it.
I thought it'll be sweet to extend her interest in self-care and personal grooming by creating a small world where she could repeat this routine and even dress up a miniature toy. Lots of motor planning and fine motor work involved!
A simple guide on how to put together your own wardrobe shoe-sized small world -
Materials needed:
1 small shoebox (An ideal size would be a child's shoebox)
Small box that fits in the shoebox (That'll be the washing machine)
1 empty bathroom paper roll (To form the component inside the washing machine)
Black marker and white paper for illustrations
Regular glue, hot glue gun, penknife and scissors
Felt cloth (To make tiny clothes)
Velcro dot stickers (Specifically just the hook side only, to stick tiny clothes onto hand-drawn cupboards and shelves)
Steps:
To craft the washing machine: Use regular glue to stick white paper onto the small box and then illustrate on the paper using the black marker. I referenced Cybermag's tiny washing machine design for the washing machine drawing. Then trace the round outline of a bathroom paper roll in the middle of the box and cut it the circle. Insert the paper roll into the box and glue it securely. Trim off the excess height of bathroom paper roll. With the cut circle, hold it over bathroom roll and tape the left side of it to make a tiny washing machine door.
Illustrate the cupboards and shelves on the white paper and stick it onto the inner flap of the shoebox. Stick the hook end of velcro dot stickers onto the drawing where the clothes would be stored.
Cut out tiny clothes using differently colored felt and stick them to the velcro dot stickers.
(Optional) Place a miniature doll in the shoebox and craft felt clothings for it. I used a small brown bear keychain and made a hat and overalls for it. Miss 22 months enjoyed putting on and pulling off these apparels.
Legend of the Chinese label:
洗衣机 (Xǐ yī jī / Washing machine)
Chinese vocabulary I used during play:
衣柜 (Yī guì / Clothes cupboard)
抽屉 (Chōu tì / Drawers)
衬衫 (Chèn shān / Shirt)
袜子 (Wà zi / Socks)
I intend to update the wardrobe regularly to keep things fresh and fun for her!
2. Kitchen Shoebox-sized Small World
We make a lot of meals at home. Miss 22 months enjoys helping out in the kitchen and I try to involve her in my daily meal prep.
Since her baby days, Miss 22 months had an affinity with pots and pans (read her sensory play experience with a kitchen rock band here) and I knew a kitchen small world would totally be aligned with her interests.
Therefore, I created an end-to-end kitchen process whereby Miss 22 months could retrieve ingredients from the refrigerator, cook them in the pot and then plate them. All of which fits in the space of a small, highly portable shoebox!
A guide on how to put together your own kitchen shoe-sized small world -
Materials needed:
1 small shoebox (An ideal size would be a child's shoebox)
2 small boxes that fit in the shoebox (That'll be the refrigerator and freezer)
Black marker and white paper for illustrations
Regular glue, penknife and scissors
Toy ingredients (I use Melissa and Dough food toys)
Velcro dot stickers (For securing some of the food items to the plate, and the pot to the stove)
Steps:
To craft the refrigerator and freezer: Use regular glue to stick white paper onto the 2 small boxes and then illustrate the refrigerator and freezer door handles on the paper using the black marker. Use a penknife to cut 'doors' out for the refrigerator and freezer (3 slits needed, leaving 1 side intact). Bend the remaining side in both directions to form a crease so it's easy for your toddler to open and shut the doors.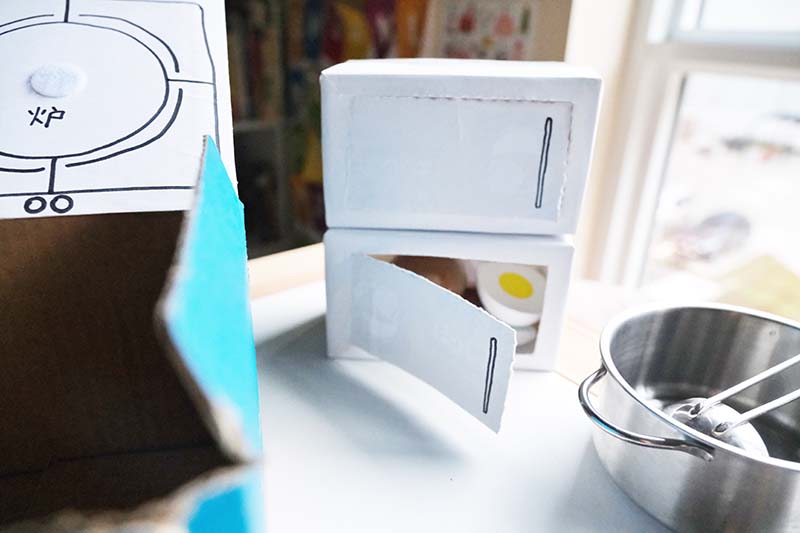 Illustrate the stove and cutlery on the white paper and stick it onto the inner flap of the shoebox. Paste one end of the velcro dot stickers onto the stove and plate, and the other side on the bottom of the toy pot and food ingredients. I'm using a combination of Anko cutting fruit set and Melissa and Doug food toys. The pot and ladle I'm using are from IKEA DUKTIG's cookware set.
Legend of the Chinese labels:
盘 (Pán / Plate)
叉 (Chā / Fork)
炉 (Lú / Stove)
刀 (Dāo / Knife)
Chinese vocabulary to use during play:
冰箱 (Bīng Xiāng / Refrigerator)
蔬菜 (Shū Cài / Vegetables)
水果 (Shuǐ Guǒ / Fruits)
肉 (Ròu / Meat)
海鲜 (Hǎi Xiān / Seafood)
锅 (Guō / Pots)
汤勺 (Tāng Sháo / Soup ladle)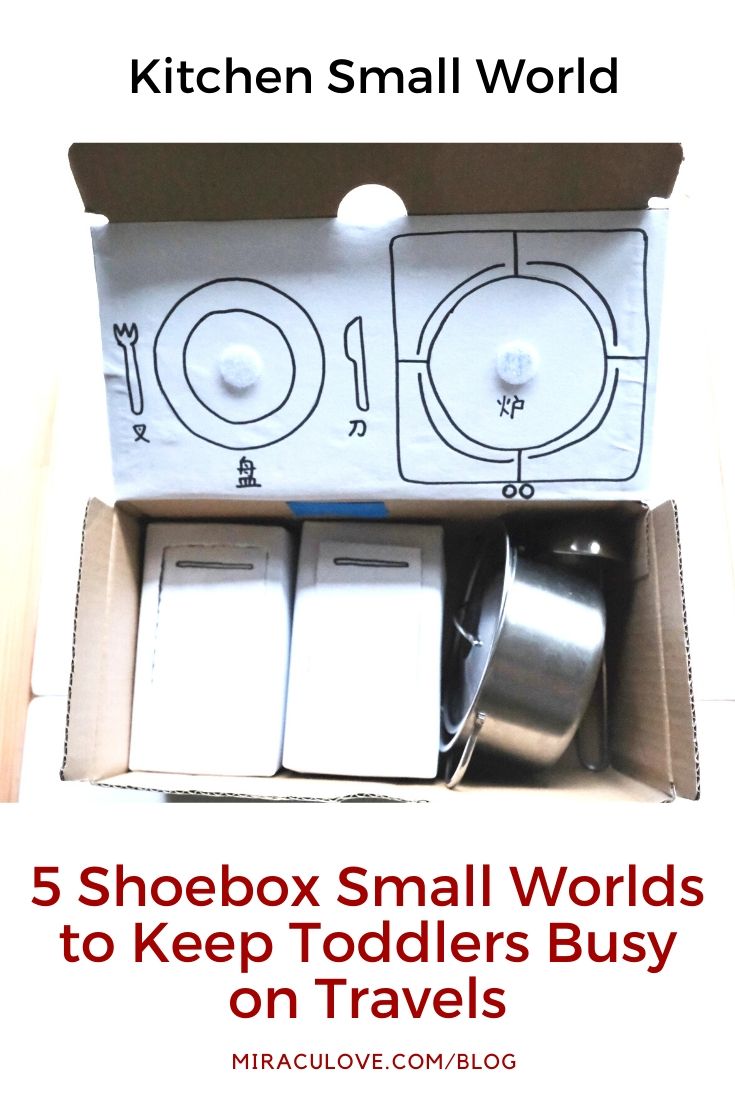 3. Dollhouse Shoebox-sized Small World
We have Melissa and Doug's Fold and Go Dollhouse which Miss 22 months enjoys playing with but honestly, it's not portable or lightweight in the least bit lol. Hence, practicality calls for DIYing a small shoebox-sized dollhouse which we can bring for air and car travels - THIS!!!
I incorporated Miss 22 months' favorite features of her dollhouse into this DIY small world, such as windows and a door that can be open and shut, tiny peek-through windows and double storeys. The doll and dog figurines as well as furniture I used in the door house are from Melissa and Doug.
Legend of the Chinese labels:
家 (Jiā / Home)
窗口 (Chuāng Kǒu / Windows)
顶层 (Dǐng Céng / Top Level)
底层 (Dǐ Céng / Bottom Level)
门 (Mén / Door)
Chinese vocabulary to use during play:
打开窗户 (Dǎ Kāi Chuāng Kǒu / Open the windows)
步入门口 (Bù Rù Mén Kǒu / Step through the door)
在浴缸里沐浴 (Zài Yù Gāng Lǐ Mù Yù / Bathe in the bathtub)
幸福家庭 (Xìng Fú Jiā Tíng / Blissful family)
4. Carpark Shoebox-sized Small World
A few months ago, Miss 22 months was fascinated with anything that moves on wheels. Her interest grew when I introduced The Little Blue Truck books by Alice Schertle to her, and subsequently Good Night Construction Site by Sherri Duskey Rinker. To reinforce the learning, I got her toy sets of emergency and construction site vehicles from Melissa and Doug,.
Because she really enjoyed the DIY car playtown I built her out of cardboard, I decided to build her a more compact version so she can play with her toy vehicles on the go. I built her a carpark. This is the end-result, and she was crazy about the entrance and exit points of the carpark. She also likes the slope/ramp of the shoebox.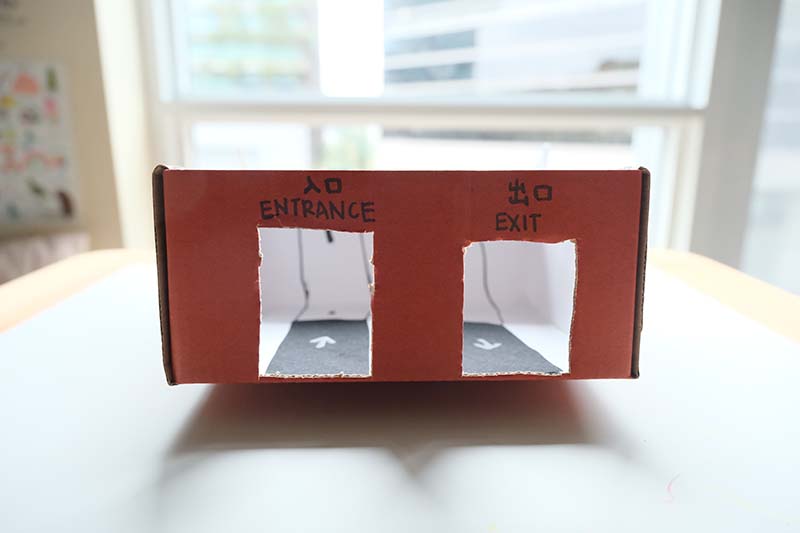 停车场 (Tíng Chē Chǎng / Carpark)
入口 (Rù Kǒu / Entrance)
出口 (Chū Kǒu / Exit)
访客停车位 (Fǎng Kè Tíng Chē Wèi / Visitor Parking Lots)
行人道 (Xíng Rén Dào / Pedestrian Crossing)
停 (Tíng / Stop)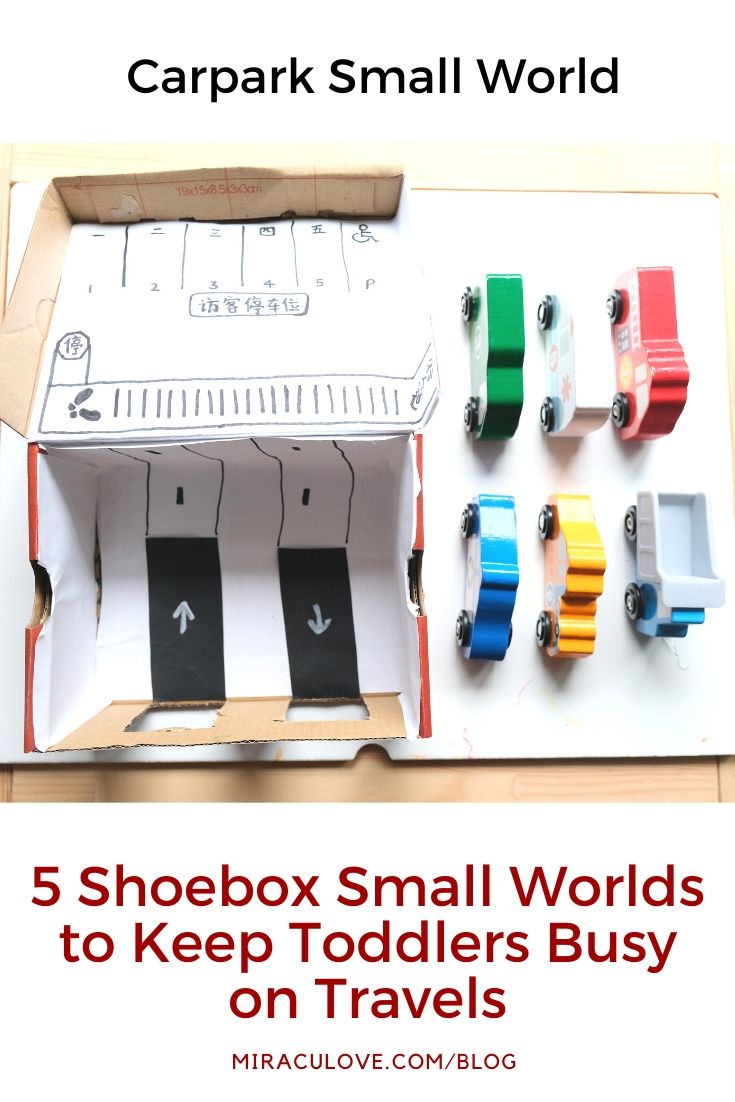 5. Barnyard Shoebox-sized Small World
The Barnyard Dance by Sandra Boynton is one of Miss 22 months' favourite books about farm animals. We also regularly bring her to Kelsey Creek Park in Bellevue to meet its residents - the sheep, horses, ducks, pigs etc. At home, Miss 22 months has a set of realistic farm animal figurines from Melissa and Doug. With all these exposure, she loves farm animals and knows the animal sounds they make by the time she turned 16 months.
Previously I created a farm animal sensory small world for Miss 22 months using our IKEA flisat table. This time round, I condensed it into the size of a shoebox so it's nifty for bringing out!
I stuck a photo print of a barnhouse and lined the inner of the shoebox with green crepe paper. Then I included Melissa and Doug's farm animal toy figurines, felt cardboard trees, pom pom balls (pretend bushes) and a few small green wooden blocks (pretend vegetation) in the setup.
It took less than 5 minutes to put together, and Miss 22 months was thrilled to open the box and play with it. A lot of pretend feeding happened! I took the chance to teach Miss 22 months about the farm animals' diets and introduced the term 'herbivores' to her. Lots of learning for such a small little box!
Also challenged myself to use more Chinese vocabulary during play:
农场 (Nóng Chǎng / Farm)
树木 (Shù Mù / Trees)
草坪 (Cǎo Píng / Grass lawn)
放牧 (Fàng Mù / Graze)
草食动物 (Cǎo Shí Dòng Wù / Herbivores)
素食 (Sù Shí / Vegetarian)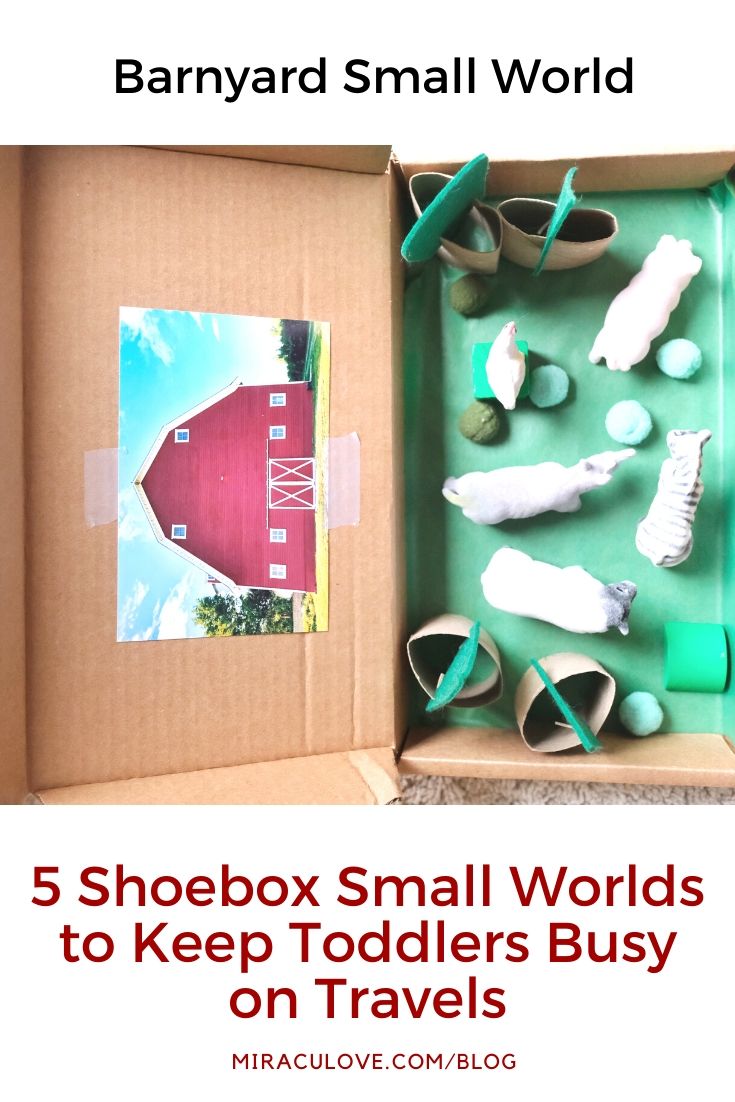 Usage tips:
Toddlers love anything novel so I would suggest not to introduce these DIY small worlds to your little ones prior to the travel. Save them just for travel! Novelty would keep them curious and engaged when playing with these DIY small worlds for the first time.
Wrap an elastic band around the shoebox to prevent spilling of the contents with all the moving around you need to do!
If you need to condense these DIY shoebox-sized small worlds even further, you can take a leaf out of collapsible, foldable dollhouse tutorials such as these - Consumer Crafts' Portable DIY Dollhouse and Red Ted Art's Cereal Box to Foldable Doll House Perfect Take Along House.
Happy and safe travels with your little ones!
Hi! I am Yunnie. I am the newly minted mama to a little baby girl and a mum friend to everyone on this special (and many times scary) journey of motherhood. Also a graduated bride with a penchant for weddings.