Valentine's Day is drawing near and I've been reading "In My Heart: A Book of Feelings (Growing Hearts)" by Jo Witek to Miss 21 months.
I reckon this is the best time to organically teach little ones about the notion of love and what it means. Beyond romantic love seen in Disney shows, I wanted my toddler to understand that love extends to caring and compassion for people, animals and Mother Earth.
Therefore, I created these 6 Valentine's Day Montessori-inspired tray activities for my 21 month old toddler to help her comprehend love in myriad ways. The activities were created and conducted in Chinese as I'm currently trying to help my toddler learn her mother tongue and heighten her print awareness of Chinese characters. Had been hugely inspired by Chalk Academy's article on promoting a print-rich environment to improve literacy in children!
6 Valentines Day Montessori Inspired Tray Activities for Chinese Toddlers!
1. DIY 心 (Xīn / Heart) Stamp Play Dough Activity
Tried The Country Chic Cottage's brilliant idea of making stamps using hot glue and created the these 心 (Xīn / Heart) cardboard stamps.
I used the 心 (Xīn / Heart) Chinese character for the stamp because it's simpler in construction with less brushstrokes, therefore easier to write on the DIY stamp with less mistakes. An alternative and situationally-appropriate character would be 爱 (Ài / Love).
The tricky part was flipping the 心 (Xīn / Heart) character horizontally and writing that with the hot glue.
Hot tip (pun intended lol): If you think writing from memory may yield errors, use a marker to draw the outline of the horizontally flipped 心 (Xīn / Heart) character and fill the empty spaces within the lines with hot glue!
To help with visual learning, I demonstrated the 心 (Xīn / Heart) stamping on a heart-shaped piece of play dough. My play dough is also homemade (details here.)
Furthermore, I provided play dough manipulation tools like a rolling pin and toy knife for Miss 21 months to enjoy a fine motor workout.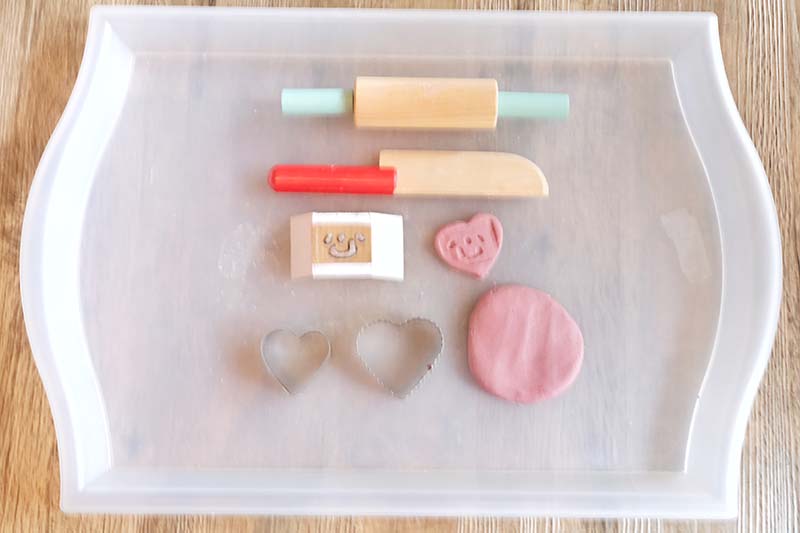 I absolutely loved how this DIY stamp turned out!
2. 爱动物 (Ài Dòng Wù / Love Animals) Ink Stamping Activity
I'm an animal lover and it is my hope that Miss 21 months' heart would be filled with compassion, care and respect for animals who share our planet. I believe a love for animal builds character and helps children grow into emotionally sensitive human beings.
This figurative activity is about filling one's heart with love for animals. I drew a big heart on a piece of white paper and wrote 爱动物 (Ài Dòng Wù / Love Animals) beside the heart.
Then, I placed the paper on the right of Melissa & Doug Baby farm animal stamps plus ink pad on a tray on my toddler's work shelf.
Miss 21 months enjoyed the stamping activity and went to her art box to retrieve crayons to color the animals on her own initiative! She also invited me to do some stamping too and I love how collaborative this piece of art became.
3. 泰迪熊诊所 (Tài Dí Xióng Zhěn Suǒ / Teddy Bear Clinic) Pretend Play
Here's the backstory and inspiration behind this activity:
Prior to this shelf activity, Miss 21 months has been listening to my heartbeat through her toy stethoscope. She loves her pretend doctor kit, especially the stethoscope. I regularly point to the left of my chest and tell her that's where my heart is.
One day, I was cutting hearts from colored construction paper when she wandered over, took a paper heart and brought it to her teddy bear. I realised she was trying to position the paper heart on her bear's chest. Then she said, "Heartbeat." That was when I realised she had made an association between the heart organ and this paper heart.
As an extension of this serendipitous teachable moment, I hurriedly brought out her toy stethoscope and encouraged her to place it over her bear's paper heart to 'listen' for its heartbeat. I decided to introduce new Chinese terminology to her and communicated the following.
"心脏 (Xīn Zàng) is the Chinese name for the heart organ, 器官 (Qì Guān). It is located in the chest, 胸膛 (Xiōng Táng), towards the left side 左边 (Zuǒ Biān). 听诊器 (Tīng Zhěn Qì) is the stethoscope which helps us listen to the heartbeat 心跳 (Xīn Tiào)."
For older children, it'll make great learning to go into detail about how the human heart works and its functionalities! Kids Activities Blog has fun, simplified ideas to allow preschoolers to feel, hear, and "see" the heart in action through hands-on play!
The next day, I pinned the paper heart on her bear's chest using a safety pin and laid it with her toy stethoscope on a tray in her shelf so she could continue reaping the joy and fun of pretend doctor play.
4. 关爱 (Guān Ài / Caring) Cardboard Heart Puzzle
I was inspired by Chalk Academy's Radical Words Heart Puzzles and used the heart puzzle idea for this activity.
I thought about the key types of love I hope Miss 21 months would have for the greater community and narrowed down on these three:
地球 (Dì Qiú / Mother Earth)
朋友 (Péng Yǒu / Friends)
动物 (Dòng Wù / Animals)
To represent these concepts, I illustrated a globe, a pair of friends holding hands and Miss 21 months' favorite animals (duck, kitty and bunny) on cardboard hearts. A more Montessori way would be using realistic images instead of cute hand-drawings, so try that too!
I halved the cardboard hearts in the middle after I was done with the illustration and engaged Miss 21 months in a conversation about caring for the Earth and other living beings. With older children, it'll be nice to make it actionable by making a list of concrete things one can do to respect and love our planet, friends and co-inhabitants of Earth.
5. 我爱你 (Wǒ Ài Nǐ / I Love You) Matching Puzzle
Miss 21 months recognises the letters "I" and "U" as well as the heart shape so I wanted to leverage that to learn the corresponding Chinese characters 我爱你 (Wǒ Ài Nǐ / I Love You).
I love how this matching exercise has other learning benefits like improving visual memory and the ability to classify objects with similarities, an important math skill.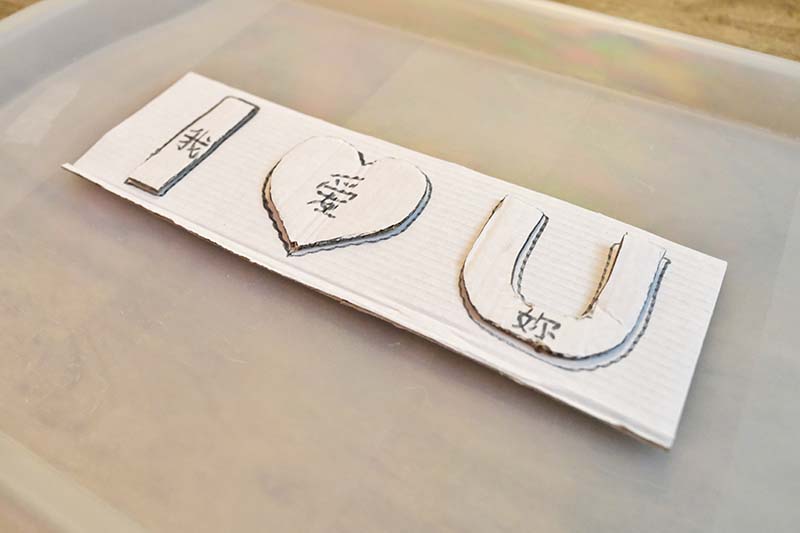 Great learning extension if your little one like mine is using English as the primary language, is familiar with letters/shapes and ready to learn Chinese as an additional language!
6. 心连心 (Xīn Lián Xīn / Connecting Hearts) Threading Activity
I could give myself a pat on the back for this original, metaphorical idea ;P
I love how threading visually links up the hearts and explains the term 心连心 (Xīn Lián Xīn / Connecting Hearts). I laid the punched cardboard hearts with a shoelace on a tray in my toddler's work shelf.
When I saw that she was done exploring it, I explained each word to Miss 21 months, 心 (Xīn / Heart) and 连 (Lián / Connecting) as well as the idea of joining the hearts together as 心连心 (Xīn Lián Xīn / Connecting Hearts).
A perfect quiet activity that also develops fine motor skills, hand-eye coordination as well as concentration and focus!
The threaded hearts (completed with some help from me to order the words and when patience ran short) made a lovely necklace for Miss 21 months' lovey. The presence of the worded heart necklace on a cherished stuffed toy in Miss 21 months' play area really added to the print-rich environment I have been trying to create for her!
Hi! I am Yunnie. I am the newly minted mama to a little baby girl and a mum friend to everyone on this special (and many times scary) journey of motherhood. Also a graduated bride with a penchant for weddings.