Growing up, one way of ushering in the Chinese New Year (CNY) was to display plenty of red decorations at home.
I've since left the nest and am thankful to have my own home to decorate. I even have a pair of little toddler hands to help me with this meaningful and nostalgic task!
Of all the CNY decorations (paper cutting artworks, lanterns etc), my favourite are the Spring Festival Couplets (春联 / chūn lián) as they exemplify the writer's wishes for the new year.
DIY Chinese New Year Couplet (春联) Craft for Toddlers
There are innumerable versions of poems, styles and ways to position, but generally follow these guidelines:
couplets are red (regarded as an auspicious colour by the Chinese people)
couplet words are in black/gold/white
couplets are typically put up in pairs
couplets are positioned alongside the door (frame)
couplets contain the same number of words for each
Given a pandemic 2020, my biggest wishes are for my family's safety, health and happiness. I wanted to keep the words simple for my toddler to recognise so I picked these two phrases for our couplets: 天天开心 (tiān tiān kāi xīn / be joyful everyday) and 平安快乐 (píng ān kuài lè / safety and happiness).
Making the Chinese New Year Couplets (春联)
Involving my toddler in this couplet making activity gave her an understanding of Chinese traditions and culture, which is important to build her sense of belonging and self-identity.
I also wanted this activity to reinforce Chinese learning (character recognition), pre-writing skills as well as fine motor abilities. The painting and peeling works the hand muscles.
Materials:
2 rectangular strips of cardboard
Washi/masking tape
Scissors to cut the tape
Red paint
Paintbrushes
Pencil (I made the mistake of using a marker)
Steps:
Select your couplet messages thoughtfully and write them using a pencil onto the cardboard pieces top to bottom, with each word on each "line"
Invite your toddler to cut washi/masking tape into strips to trace over the strokes of the Chinese characters (idea by Chalk Academy)
Paint all over the cardboard, including over the washi/masking tape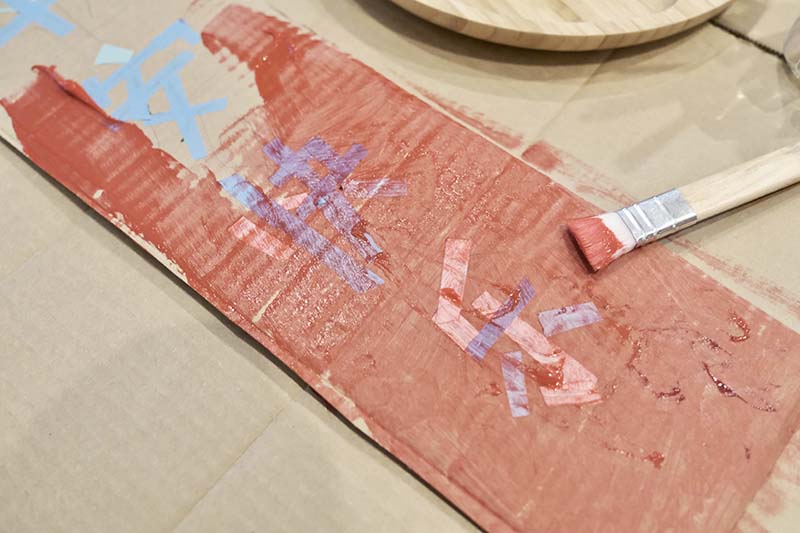 When paint has dried, gently peel away the tape
Proudly display your DIY couplets on the door (you could use 3M picture tape or double-sided masking tape to secure without leaving marks on your door)
I positioned mine really low on the door, toddler-height, so they are highly visible and conspicuous. I found her going over to the DIY couplets, pointing to each Chinese character and reading them aloud a few times everyday.
Chinese New Year is made special with all the handmade effort we're putting into decorating our humble abode.
If you try this activity with your toddler, I wish you lots of fun and family bonding moments! Happy Chinese New Year, stay safe and healthy!
Hi! I am Yunnie. I am the newly minted mama to a little baby girl and a mum friend to everyone on this special (and many times scary) journey of motherhood. Also a graduated bride with a penchant for weddings.