After a successful run of physics home experiments, I introduced a series of Chemistry home-based experiments for Miss 26 months, again made with everyday materials like recyclables, existing toys and nature loose parts.
Benefits of Early Introduction to Chemistry
Chemistry is the study of matter, its properties, how and why substances combine or separate to form other substances, and how substances interact with energy.
Chemistry is highly relevant in our everyday lives -— since every material in existence is made up of matter — our bodies, the food we eat, teh air we breathe, even our emotions. Learning chemistry help children take note of the changes they observe in the world and understand the chemical reactions behind.
Because chemistry is about things that can't be visualised with the naked eye such as atoms, elements, mixtures, the periodic table, chemical bonding and compounds, it can be abstract and difficult for children to understand the scientific reasoning behind the chemistry experiments. Therefore, the key is not about having children learn or remember the technical information, but sparking curiosity and teaching our children that there is a layer of explanation and deduction behind why things happen.
10+ Chemistry Home Experiments with Everyday Materials for Children
These simple chemistry experiments are home-based and made with everyday materials sourced from the house -- existing toys, repurposed household items and nature-based loose parts.
1. DIY Bath Bomb
I used this recipe from The Spruce Crafts because it didn't require citric acid unlike most other recipes, and more importantly, utilised common and safe-to-touch pantry ingredients like corn starch, baking soda and cream of tartar. This made it safe for my toddler to be involved in the bath bomb DIY process.
While the bath bombs didn't make loud fizzing as store-bought ones do, there were gentle fizzes and lots of bubbles were generated when they came into contact with water. I described these observations to my toddler, "Look! There are bubbles forming around the dissolving bath bomb" and "Can you hear that bubbling fizz sound?"
I mentioned using the sense of sight and sense of hearing, to reinforce what she learnt in My Five Senses book.
Child-friendly science explanation: This recipe swaps out citric acid for cream of tartar, which contains tartaric acid (the base molecule of cream of tartar). When baking soda and tartaric acid in the bath bomb are mixed and placed in water, they undergo a chemical reaction. The reaction produces lots of bubbles as seen when the bath bomb dissolves in the water. These bubbles are made of carbon dioxide gas.
2. Homemade Butter
The original idea for this homemade butter experiment comes from Little Bin for Little Hands. You could follow the steps for making homemade butter from full cream milk in her tutorial.
My toddler particularly enjoyed this activity because she could taste the outcome (she is a big fan of butter) and the making process was interactive -- she loved the vigorous shaking.
The butter was soft, airy and spreadable, closer to margarine in texture compared to conventional butter blocks.
Child-friendly science explanation: When full cream milk is shaken with force and then left to sit, what's happening is that tiny fat molecules float to the top, forming a layer of cream, which is further stirred up such that fat molecules get shaken out of position and clump together, forming butter. A fuller explanation can be found on Scientific American.
3. Erupting Volcano
This erupting volcano experiment is the classic baking soda and vinegar experiment. You could refer to Preschool Inspirations for her recipe and her no-cleanup play hack of playing outdoors.
I linked this erupting volcano activity with dinosaurs to accompany my toddler's current read, Smithsonian Kids: Digging for Dinosaurs. Ancient volcanic eruptions had been raised as one of the theories for dinosaurs' mass extinction.
We actually ran out of vinegar at some point in the activity so I had to look for other household item substitutes! I had a brainwave and introduced lemon juice and coca-cola to replace the vinegar. Lemon juice contains citric acid while coca-cola contains phosphoric acid. We noticed a milder reaction with lemon juice and a stronger reaction with coca-cola. It was interesting to see the differences in reactions with different ingredients.
Child-friendly science explanation: Baking soda is sodium bicarbonate (base) and vinegar is diluted acetic acid. Base and acid react to form carbon dioxide gas, water and sodium acetate. The gas formation is seen as the foaming bubbles from the 'volcanic lava' mixture.
4. Dissolving Egg Shell
I came across this bouncy egg science experiment on Mombrite. The experiment involved submerging a raw egg in vinegar for days to yield a naked bouncy egg.
Being frugal and mindful about food wastage, I tweaked the experiment a little by using broken egg shells leftover from meal preparation. My toddler helped to smash the egg shells into tiny bits, which we placed in a beaker of vinegar.
After a couple of days, we noticed the egg shell quantity reducing and the egg membrane becoming more visible. I fished one piece out for my toddler to take a closer look, pointing out how the egg shells were dissociating from the membrane.
Child-friendly science explanation: Vinegar contains about 4% acetic acid, and a chemical reaction starts when it is placed in contact with egg shell, that contains calcium carbonate. Acetic acid reacts with the calcium carbonate in egg shell to release carbon dioxide gas (seen as bubbles on the shell) and dissolves the egg shell.
5. Magic Milk
There are many magic milk experiments online because color changing milk is a classic kitchen chemistry experiment, but the ones I referenced closely are those of A Dab of Glue Will Do and Laughing Kids Learn.
I waited for the opportunity to use near-expiry milk for the experiment. The experiment was conducted in the bathroom sink to facilitate clean-up (sidenote: see other sink play activities for children here). Other ingredients needed were food coloring and a bit of dishwashing liquid.
My toddler found it fascinating to see the movement of the colors in the milk when the dishwashing liquid coated Q-tip touches the surface of the milk.
Child-friendly science explanation behind magic milk: Milk contains largely water, but also fats and proteins which are sensitive to changes in the surrounding milk. When dishwashing liquid is added, it bonds strongly with the fat in the milk, pushing out water and food colouring. The swirling effect is caused by other molecules moving about to make room for the dishwashing liquid and fat to bond. A fuller explanation is on Learning 4 Kids.
This experiment would be interesting to repeat for older children as they could use milk containing varying degrees of fats and observe if there are differences with the outcomes. Hint: Milk with higher fat content produces a more visible explosion of colors because there is more fat to combine with soap molecules.
6. Cleaning Oxidised Old Coins
I followed the tutorial by Sciencing for this lemon juice coin cleaning science experiment. Through this simple activity of soaking copper coins in lemon juice, children can learn about oxidation and chemical reactions.
Child-friendly science explanation: Lemon juice contains citric acid which reacts with the salt to remove copper oxide. Copper oxide is responsible for coating coins, making them look dull, old and oxidised.
7. Instant Artificial Snow
PreKinders has a post with details about how this experiment was conducted with a class of young children, using Insta-snow. Insta-snow utilises sodium polyacrylate as its key ingredient.
A more cost-friendly, homemade way would be extracting it from disposable diapers. Sodium polyacrylate is a super-absorbent polymer commonly found in diapers, and is even known as the diaper polymer. It is a non-toxic solid-like gel that sometimes is seen on baby's bottoms after prolonged wear of a soggy disposable diaper.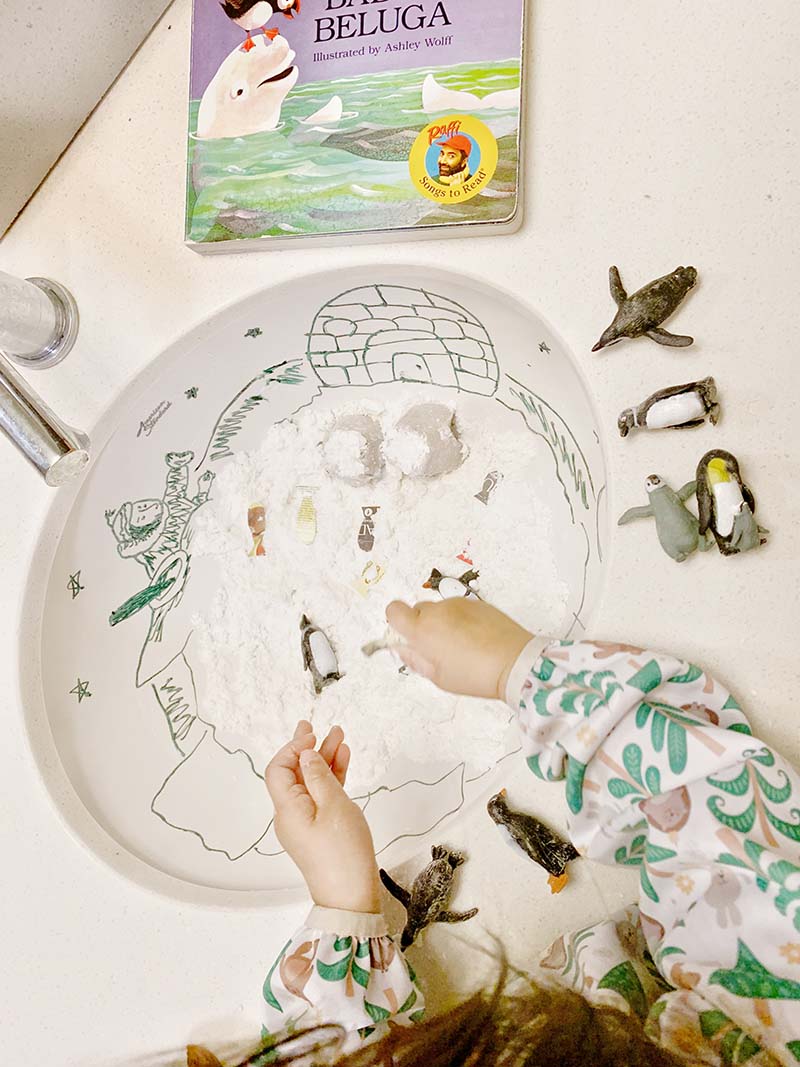 Child-friendly science explanation: When sodium polyacrylate reacts with water, water is highly attracted to its sodium ions and expands the polymer particles to form a solid-like gel. Sodium polyacrylate can hold 300 times its weight in water.
Tip: To make the instant artificial snow feels cool to the touch, add low-temperature water or you could refrigerate or freeze the fake snow.
As my toddler explored the instant artificial snow, I talked about how real snow is created and the differences (as well as similarities) between this fake snow and real snow.
Note: Supervise children during play with this artificial instant snow as they could have skin allergic reaction to leftover acrylic acid, a by-product of sodium polyacrylate production.
Alternatively, but in the absence of a chemical reaction, you could create instant artificial snow using 2 common pantry ingredients -- cornstarch and baking soda, which doubles as a DIY deodorant. The downside is that while it looks realistic as powdered snow, it's not realistic in terms of temperature.
8. Sugar Crystals
I referenced the steps for this sugar crystal growing experiment from Little Bins for Little Hands.
However instead of making the sugar solution over a stove, I placed recently boiled water into an old milk bottle and involved my toddler in adding sugar and stirring the solution. Close supervision was required due to the temperature of the water.
My toddler also helped with the positioning of the string into the sugar solution. After a few days, we noticed fine sugar deposits on the string. While they didn't grow into large crystals (probably because the solution could have been more saturated since I did not make the sugar solution over a stove to dissolve the sugar), it was a good opportunity for me to introduce the concept of crystallisation to my toddler.
Child-friendly science explanation: Sugar crystals are formed from the supersaturated sugar solution, and the process is called crystallisation. The sugar molecules move from the solution onto the string to form crystals.
Crystallisation is key in confectionery making. One way to explain crystallisation is showing toddlers examples of crystalline candies such as fondant and fudge.
9. Dry Erase Marker Fishing Game
I was inspired by Happy Hooligans' Dry Erase Floating Ink Hearts experiment for this activity.
I utilised the same dry erase marker method to draw not hearts but fishes. This idea was actually my toddler's! I had drawn fishes just as Happy Hooligans did, but she requested fishes when she saw that the hearts could float as she wanted to 'catch the fishes'.
Subsequently, I added water to my dry erase fishes so they could detach themselves from the plastic tub surface and float to the water surface. I provided my toddler a toy ladle for her to scoop up the floating ink fishes.
She enjoyed the activity so much that I had to repeatedly wipe down the container and redraw the fishes.
Child-friendly science explanation: Dry erase marker ink includes a solvent (typically alcohol) which dissolves color pigments. A resin (oily silicone polymer) is added as a "release agent" to make the ink erasable, preventing the ink from sticking to a non-porous surface, explaining why it could be wiped off easily.
When water is poured over a dry erase drawing, a strong buoyancy force overcomes the ink's stickiness, pulling the illustration (which is less dense than water) off the material surface and causing it to float in water. A fuller explanation is on Gizmodo.
10. Crayon Wax Resist Art
I've been doing crayon wax resist art since my younger days. It is one classic art activity (and science experiment).
For this activity, I drew pictures of animals on white paper using a white wax crayon and invited my toddler to decode by painting over them. The darker the color of paint used, the more visible the white crayon mark would be.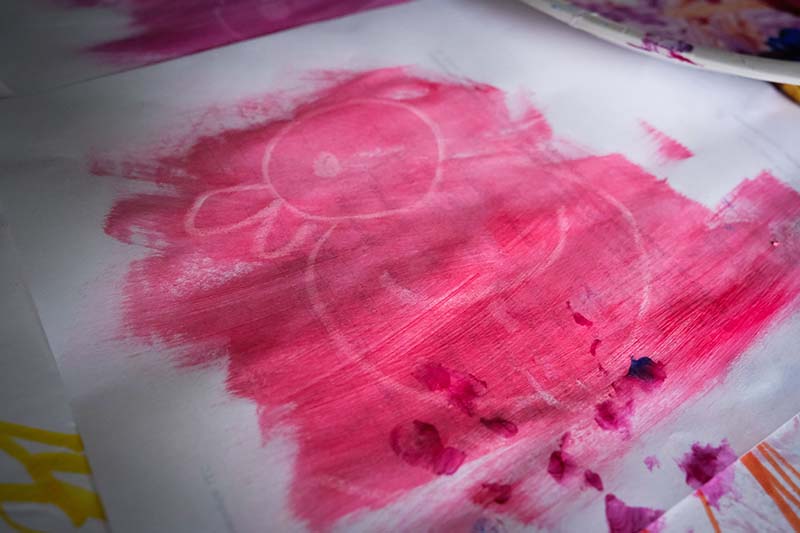 Child-friendly science explanation: Watercolor paint is mostly made of water, which clings to paper, but it does not adhere as easily to crayon wax which is hydrophobic ("afraid of water"). Hydrophobicity refers to the degree to which water forms beads or spreads out over the surface. When one draws on paper with a wax crayon before painting over it, the wax protects the paper from absorption so the watercolor cannot adhere to the wax drawing.
I hope you enjoy doing these fun, home-based chemistry experiments with your children!
To follow my child-led, open-ended activity ideas, follow my Instagram, Pinterest or Facebook Group.
Hi! I am Yunnie. I am the newly minted mama to a little baby girl and a mum friend to everyone on this special (and many times scary) journey of motherhood. Also a graduated bride with a penchant for weddings.