I came across the concept of sink play on Mama Papa Bubba and found it to be an incredibly easy way to do an activity set up. Small worlds in the sink in particular make an appealing invitation to play, allowing children to integrate water into their make-believe worlds.
Benefits of Using the Bathroom Sink
I usually set up the sink play activities in a child-led manner. For instance, when my toddler asks to play with oobleck, or says she wants to "splash water", we gravitate to the bathroom sink which is the perfect location for messy and water play. I typically try to integrate concepts or themes into my toddler's sink play activities, shaping them into sensory small worlds so as to boost imaginary play. Doing so tends to keep toddler more engaged for a longer period of play time.
These are the advantages of using the bathroom sink as the premise for sensory small world activities:
General containment of 'messy play' to an area
Hassle-free, efficient clean-up of play area after the activity (scoop/sieve up pieces that might clog up the sink and wash the rest down)
Easy wash-up of the child post activity/Child has means to independently wash and has quick access to towels during play
Children can experiment with the addition of water to their activities (thus learning things like which objects sink/float through observation)
Children utilise the bathroom sink and countertop table creatively in their play, boosting imagination
10+ Creative Sensory Sink Play Ideas for Children
Here are 10+ fun, open-ended and creative sink play ideas I have tried with my toddler. I integrated a diverse range of settings to reinforce my toddler's knowledge of natural environments and the world.
1. Colourful Boba Shop Sink Play
Inspired by Play at Home Mummy's ball pit bath, I created a boba shop for my toddler to dish out beverage inventions with colorful boba, represented by colorful pom pom balls.
I provided lots of jars and containers for object (boba) filling and transfer. This made for a great fine motor activity of scooping, stirring and pouring.
During play, we talked about the different 'flavor' each pom-pom ball has based on its color, such as green for avocado and blue for blueberry. This inspired my toddler to think and answer creatively as well as draw conclusions from existing knowledge of fruits and vegetables. Rich use of vocabulary during play is useful for language development.
This activity also presented the opportunity for color sorting and one-to-one correspondence (scooping while counting each pom pom ball) on top of creative imaginary play.
I love how the 'boba pearls' looked so appealing and realistic-looking in the jars and containers. It was little wonder that I actually craved for a bubble tea beverage after this activity.
2. Lemonade Stand Sink Play
I was inspired to make this activity after my toddler and I read Maisy Makes Lemonade and she requested for a slice of lemon to taste it.
I decided to do more than merely cut up and give her a piece of lemon; I made this lemonade stand for her to do pretend play as well as explore the taste, texture and properties of lemons.
The setup was really simple -- I put the stopper on for the bathroom sink, filled it with some water and placed real lemon slices into the sink. Then, I provided a ladle and steel colander from my toddler's toy kitchen, cups and trays, toy knife as well as toy lemons.
She served me plenty of lemon soup and even took orders.
During the activity, she discovered seeds in the lemon slices and spent much time trying to remove them, all the while asking, "What is this?" I love that this activity provided the opportunity for learning extension, and I explained how seeds can grow into plants, reinforcing knowledge from another book we recently picked up, What Happens Next? Seed to Plant.
3. Penguins in the Snow Sink Play
I used the 2-ingredient instant snow recipe by Preschool STEAM which requires simple pantry items -- just corn starch and baking soda -- to make realistic powdery snow.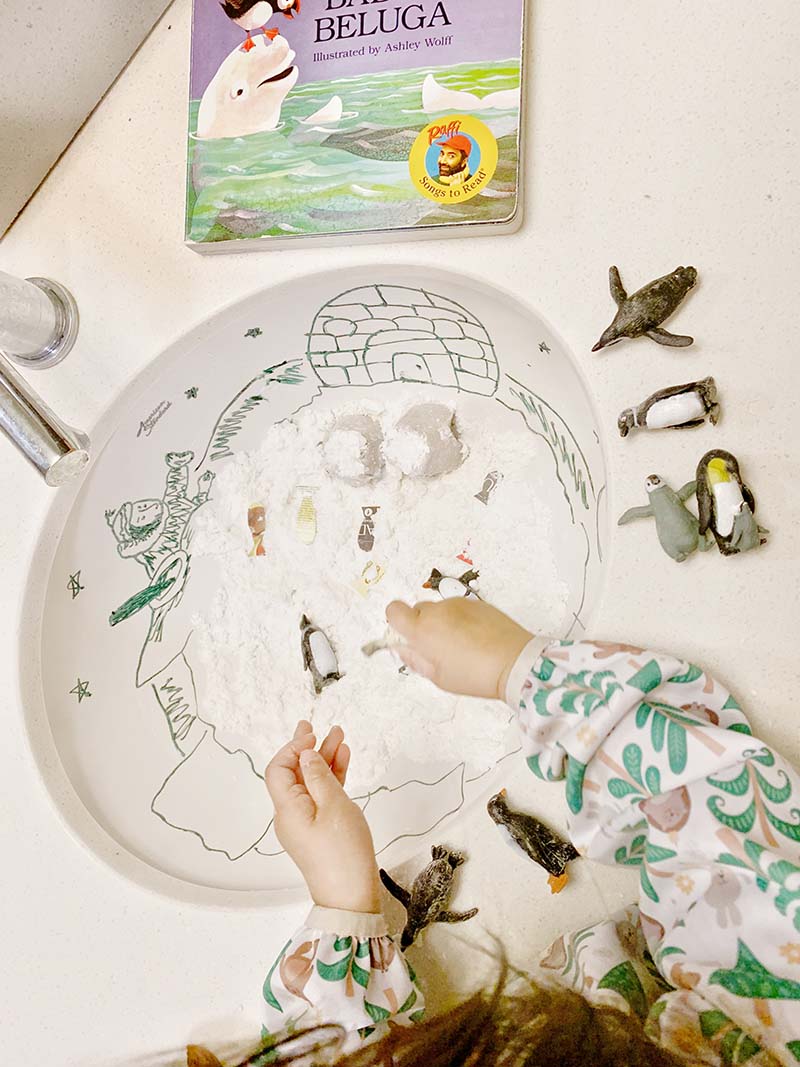 The setup was inspired by a scene out of my toddler's favourite Baby Beluga book. I illustrated igloos, eskimos and glaciers on the sink walls and added realistic penguin, seal and walrus figurines to the instant snow.
My toddler enjoyed burying the penguins in the snow. She even came up with a storyline of penguin parents looking for food for their babies.
Following this interest, I cut out a few fishes from cardboard and embedded them into the instant snow for my toddler to uncover and 'feed' to the penguins.
Alternatively, I found out that there is insta-snow powder, a super-absorbent polymer that is often found in diapers and sanitary pads, which could be purposed for play. Stever Spangler Science has a post about that.
4. Life Cycle of a Frog Sink Play
This sink play activity was inspired by "Growing Frogs" book by Vivian French, which is a beautiful picture book about what happens when a little girl collects frog spawn from a neighboring pond.
For this setup, I illustrated the life cycle of a frog on cardboard pieces which I propped to stand as the backdrop on the bathroom counter. The pond is the sink, in which I placed expired chia seed. Soaked chia seeds have a layer of jelly-like structure around its black seeds, which highly resembles frog spawn.
I used nature-sourced items like rocks and wood pieces to decorate the surroundings of the pond. I also provided an adult frog toy as the main character of the 'story'. My toddler actually acted out a scene of the frog hopping into the pond and laying the eggs.
We talked about how fertilisation of the eggs occur and the development from tadpole to adult frog, reinforcing my toddler's knowledge as acquired from the book.
We also sang the classic nursery rhyme "Five Green & Speckled Frogs" during this activity.
Tips for clean-up:
Scoop up the soaked chia seeds with a kitchen mesh sieve to avoid clogging up the sink.
Wash out all chia seeds that get onto towels, toys and nature loose parts before laying them to dry as they would attach tightly to the items and be difficult to pry off.
5. Community Town Sink Play
This sink play activity allows children to act out scenes relating to a community town.
I constructed a makeshift bridge over the bathroom sink to form a river under the canal for my toddler's peg dolls to walk on.
I used colored painter's tape and illustrated road markings on it to designate roads for the community transport vehicles.
I also added a rainbow arch and cut a hole through a cardboard box to make a tunnel for the vehicles.
In the bathroom sink, I placed a makeshift sailboat constructed from a small cardboard box so it could float in the river when my toddler added water to it. We talked about density and buoyancy when she turned on the tap to add water to the sink, reinforcing some of the concepts we touched on when we did physics home experiments with other everyday materials.
6. Insect Swamp Sink Play
This setup repurposes vegetable peels into swamp plants, representing moss and weed that cover the swamp waters. I had been inspired by Cando Kiddo who recommended giving carrot peels to babies for tactile play.
Vegetable peels make a great sensory play material as their moist, slimy, smooth textures are hard to find in toddlers' everyday sensory experiences. Research has shown that positive, varied interactions with textures boost healthy sensory development, as the brain becomes more accustomed to receive, interpret and respond to different tactile sensory information.
Furthermore, frequent exposure to sensory play enables children to feel more comfortable with experiencing novel textures.
There is a large number of insects that reside in swamp habitats, such as various species of beetles and flies. I used this set of realistic bug figurines in my setup, which came with a pair of tweezers for my toddler to practise fine motor skills.
Tip for clean-up: Sieve up the vegetable peels before draining the water so that the peels don't clog up the sink. After being patted dry, they can be saved for scissor cutting activities for children prior to being composted or thrown.
Mom.com has an informative post for children who wish to learn more about bugs that live in swamps.
7. Barnyard Pig Mud Bath Sink Play
The highlight of this barnyard sink play setup was none other than the pretend mud for the pig, made using brown oobleck. I used the oobleck recipe and followed the instructions by The Best Ideas for Kids.
To create the brown color, I added cocoa powder. I would recommend to add the cocoa powder to the corn starch prior to water addition (I did it after the oobleck had been formed and spent a long time trying to integrate it.)
My toddler asked to 'wash' the animals which had gone for a mud bath and I supplied her with a tub of water. It evolved into an animal washing activity.
We talked about why pigs love to roll in mud (cooling effect), reinforcing the knowledge she learnt from National Geographic: Farm Animals book.
8. Galactic Expedition Sink Play
My toddler has a few favourite space-themed books, Nerdy Babies: Space, Roaring Rockets and Scholastic Space Book Set.
This setup delighted her, who dropped the space vehicles and astronauts into the colored water, pretending it was galactic space.
I placed the tip of a black washable marker (with severely depleted ink and could no longer color the way it used to) into the water thinking its black ink would turn it black. This idea of recycling the ink of depleted markers came from Hello Wonderful. The ink dyed the water emerald, taking me by surprise. While it didn't achieve the intended black (to create a 'black hole' effect), I was really pleased with this mysterious-looking color shade.
My toddler helped me to cut recycled aluminium foil into stars and clumped the remaining into small silver balls to represent asteroids.
The aluminium stars and balls floated around freely in the emerald water, looking like they were free from gravitational force. I talked about gravity, which my toddler learnt in the space books.
The space mission figurines are from Wild Republic while the planet figurines are from Safari Ltd.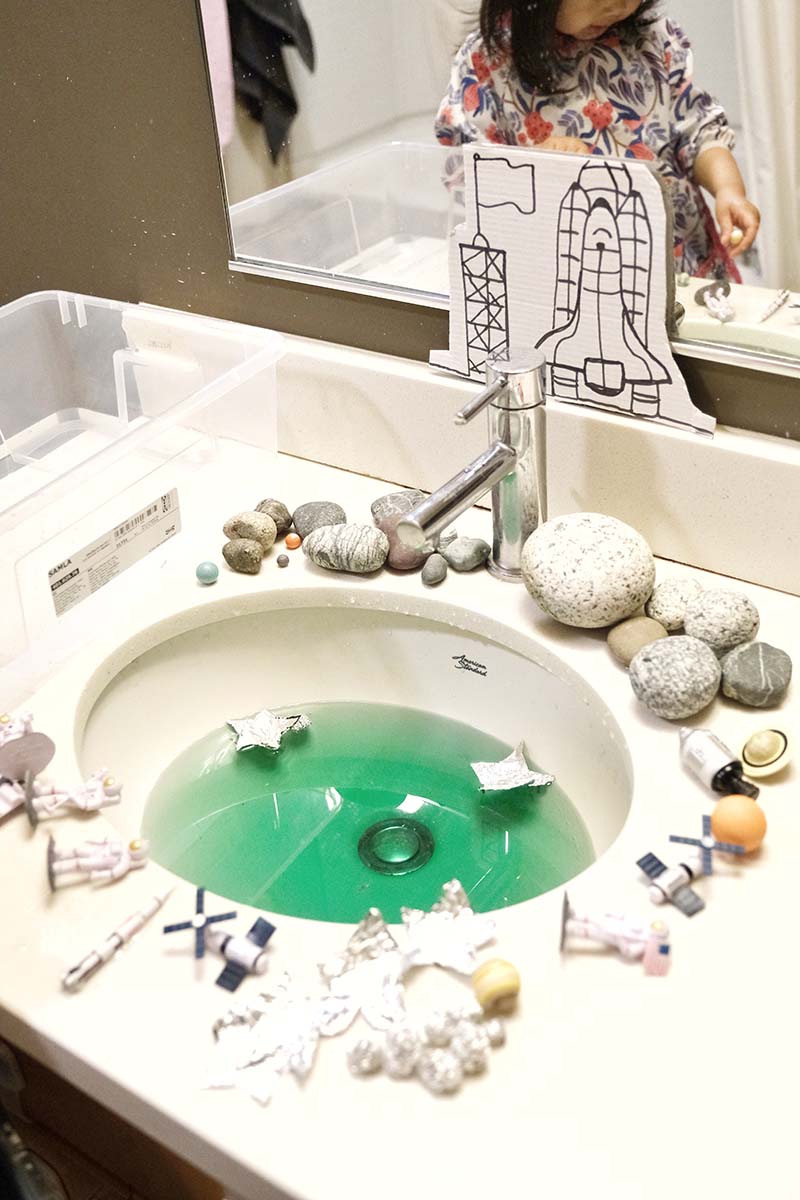 NASA has a website for children to learn more about space and to find out about the latest news about NASA's space missions.
9. Sea Life & Its Food Chains Sink Play
This setup was inspired by our recent read, Who Eats What? which teaches children about food chains and food webs on land and in the sea.
The 'sea plants' in the setup were near-expiry kelp and black fungus in my pantry.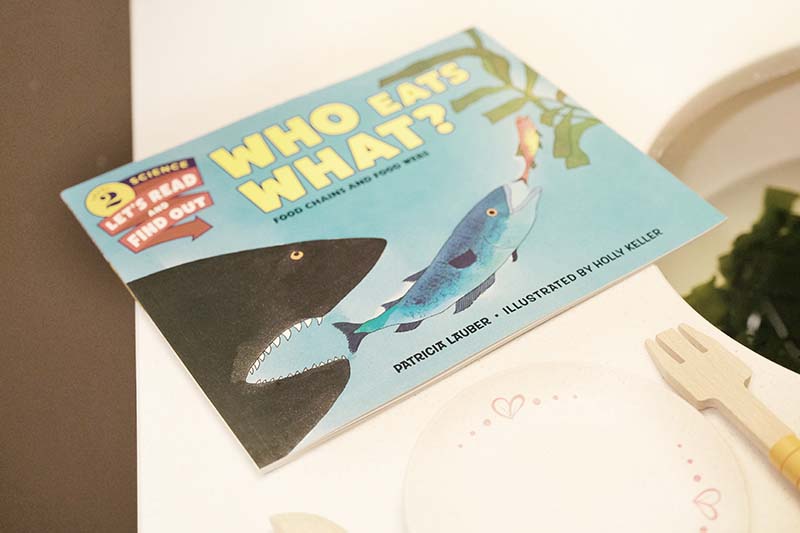 It was fascinating for my toddler to see how the dried kelp and black fungus pieces soaked up water and changed in physical appearance -- size, color and texture.
Kelp has a slimy and slippery texture which my toddler initially had an aversion to. After fifteen minutes of scooping them about and observing me shred them into pieces, she eventually gave it a go and explored the kelp.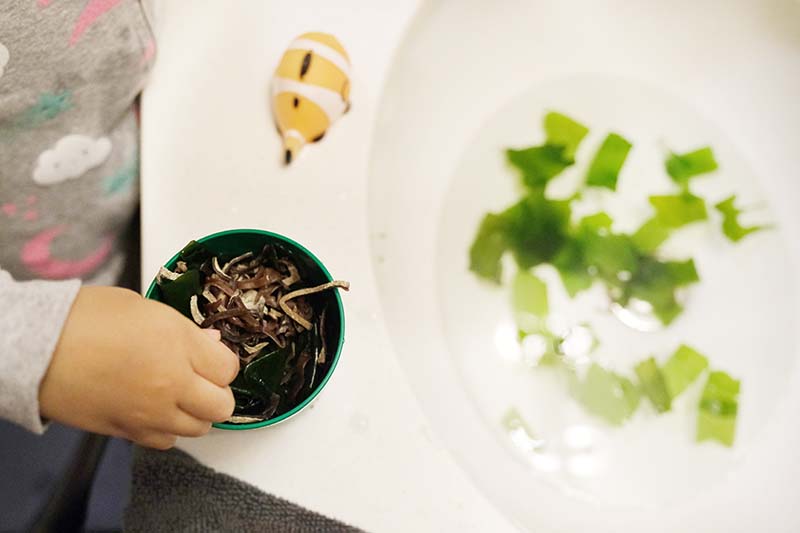 I didn't have any realistic marine animal figurines to use for the setup, so I utilised my toddler's existing fish, crab and sea star bath toys. I would recommend a more Montessori-aligned use of realistic figurine toys for the setup.
Our play conversation was largely recounting what we had learnt from the book, about kelp and other sea plants being the start of the food chains/webs and supporting the ocean ecosystem by being food for many sea creatures.
My toddler also curiously asked about ripples she spotted in the water from throwing the kelp and black fungus pieces in, providing the opportunity for a science lesson.
10. Ships at Sea Sink Play
Busy Boats helped my toddler to learn the names of different sea transportation vehicles. Since it is summer now, she has been spotting many different boats and ships at the beach, from the pier, at the jetty, nurturing an interest in vehicles that travel in water.
I used Safari Ltd In the Water figurine set for this setup, which has a variety of watercraft. I added rocks and cardboard trees to complete the seashore look.
Again, I used a depleted blue washable marker to create the blue tinted water.
It was a pity that the watercraft figurines could not float in water, so I'm thinking of creating DIY floating boats next time to add realism to this small world setup.
Other Fun Sink Play Ideas
If you enjoy designating the bathroom sink as the location for messy play, here are other hands-on sink play ideas to try:
I hope your children enjoy these creative sink play activities!
To follow my child-led, open-ended activity ideas, follow my Instagram, Pinterest or Facebook Group.
Hi! I am Yunnie. I am the newly minted mama to a little baby girl and a mum friend to everyone on this special (and many times scary) journey of motherhood. Also a graduated bride with a penchant for weddings.