A few months ago I dreamt up plans of celebrating my toddler's second birthday with a getaway and outdoor photoshoot. Not in a million years would I have expected a pandemic to stop everything in its tracks and derail everyone's plans.
With covid-19, the world is a dramatically different place today. Social distancing and quarantining ourselves at home have become the new normal.
Still, I longed to make my toddler's second birthday a memorable one. We have so much to be thankful for, us being safe and able to stay home was a blessing in itself. I switched gears and prepped for an experiential indoor birthday celebration instead.
Over her birthday weekend, I engaged my toddler in 10+ purposeful, fun and hands-on birthday activities. The entire event wasn't as isolating as I had thought. Family and friends didn't have to miss the precious moments because we extended an invitation to them all -- virtually. Thank technology!
10+ Experiential Birthday Activities for My Toddler At Home!
1. Birthday Garland
Painting is an art activity my toddler has always enjoyed. For her birthday garland, she picked the colors and did the color-mixing while I cut out square pieces of thick card stock to serve as the garland base. The icing on the cake was learning about colors and reinforcing letter recognition.
I wrote the letters onto the painted cards using a white Sharpie marker. Alternatively white crayon or glue could be used to write the letters prior to painting to yield a resist art outcome.
In the art-making process, my toddler sketched a family portrait (three circles in a square house) on one of the cards. It was too precious not to include in the birthday garland.
Decoration tip: Punch two (instead of one) holes on opposite ends of each card stock for threading, which helps keep each card nice and flat against the wall.
2. Family Artworks
This idea originated from Kids Activities Blog. I love one of the featured creations -- paper hand cutouts, one for each family member, with the phrase "When the world stayed apart, this was my favourite place to be".
Inspired, I sought to make a meaningful family artwork of our own. I wanted to count our blessings during this trying period and remember this unprecedented time of togetherness.
In addition to family handprints, we did a footprint version.
3. Confetti Party
Chalk Academy gave me the idea to turn paper scraps into confetti so I began collecting colored paper leftovers for a few week to prep for a confetti bash.
I invited Miss 2 to help with the hand-shredding of paper scraps, which she did with gusto. She even initiated using her IKEA Mala zig-zag scissor instead to help with the activity.
We did a mini home photoshoot amid the confetti throwing. It was a wonderful way to capture genuine joy and her big, happy smiles.
4. Birthday Hat Crafting
My toddler and I painted paper cup birthday hats for the family and I wrote our ages on them. While my toddler eventually decided against wearing hers, we used the birthday hats to dress up her soft toys. It added a lovely festive touch.
5. Baking the Birthday Cake of her Choice
We had always known Miss 2 loves cheese and chocolate, so we gave her the option of a cheesecake or chocolate cake. She picked cheesecake for her birthday cake flavour which we hadn't baked before so we turned to the Internet for simple recipes. At the same time, we got a store-bought chocolate cake as contingency.
During the baking process, Miss 2 helped her dad unwrap the cream cheese (whilst taking a couple of licks) and stirring the cake mixture. I was glad she had the chance to partake in the cake making process and witness this labour of love.
The result? The home baked cheesecake turned out flawed with a too-soft texture and too-eggy taste but it was totally an experience we would go for again.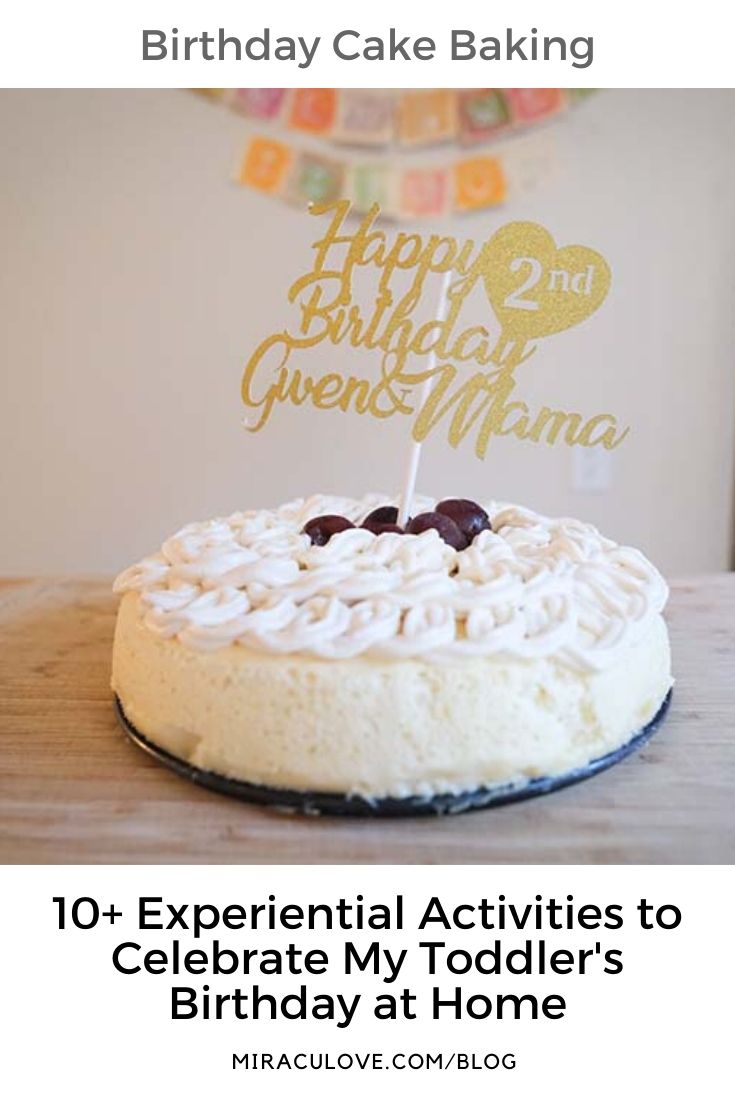 6. Homemade Whipped Cream Buffet
I showed Miss 2 how whipped cream could be made from heavy cream milk (and maple syrup to sweeten). It made for an interesting sensorial experience for her to see how liquids turned into solids.
After she had her first mouth, Miss 2 loved the homemade whipped cream so much that she practically hugged the huge mixing bowl to herself and chugged through it while we set up the birthday cake table.
7. Candle Blowing Fest
Summary: There's no better day to blow and re-blow ALL the candles in the house than on a toddler's birthday!
I termed it cause and effect and science learning about combustion.
8. Balloon Fiesta
Balloons are something of a perennial favourite with toddlers. Miss 2 and I pumped up a couple of balloons to toss around at home and she particularly loved the shiny foiled number balloon for its huggability.
Over the birthday weekend, we played a number of balloon games, including swatting balloons with toy spatulas, kicking them into makeshift goal posts and balancing them on cardboard tubes.
9. Ang Ku Kueh Chinese Pastry Making
I thought it would be nostalgic and meaningful to tie in the birthday celebration with the Chinese tradition of making Ang Ku Kueh, otherwise known as 'Red Tortoise Cakes'. The last time I had made Ang Ku Kueh pastries was when Miss 2 turned one month!
These pastries are very popular for baby's full-month and one year old birthday celebrations in Southeast Asia as they symbolise longevity and good health (due to the tortoise having one of the longest life spans of any animal on earth).
I used the easy Ang Ku Kueh with sweet mung bean filling recipe from What to Cook Today. Miss 2 helped me with mung bean soaking and washing, moulding of pastry by hand and knocking the pastries out from the wooden mould.
This was a hands-on and delicious way to introduce Chinese traditions to my toddler and help her remember our Singaporean Chinese roots.
10. Going Down Memory Lane
We read 'The Wonderful Things You Will Be' book together which is the perfect book to speak of my love and hopes for Miss 2. We also leafed through The Wonderful Baby You Are: Baby Memory Book which I had filled with her baby polaroid pictures.
I described her milestones and narrated fond events in rich vocabulary. This exercise was such a nostalgic and poignant one!
I also took the opportunity to put into perspective what her birthday meant to me, how she had been birthed as well as the concept of age and time (what growing one year older meant).
Other Awesome Indoor Birthday Ideas
I found these birthday ideas relevant and inspirational in these strange, unpredecented times of quarantine and social distancing:
Fun indoor birthday activities like Candy Olympics by Fatherly
Birthday celebration ideas during quarantine for different age groups by Merrick's Art
How to throw a fun kid's party during quarantine by The Active Times
Wishing your little one a blessed and happy birthday. Stay healthy and safe!
Hi! I am Yunnie. I am the newly minted mama to a little baby girl and a mum friend to everyone on this special (and many times scary) journey of motherhood. Also a graduated bride with a penchant for weddings.