Playing with play dough provides myriad developmental benefits in early childhood. What I love about play dough is that it provides unstructured, open-ended sensory play. Children could freely explore and manipulate play dough without rules, guidance or even an end-product in mind.
As my toddler started making leaps in abstract thinking and imaginary play nearing 2 years of age, I started creating play dough invitations to play in the form of small world themed tinker boxes -- which she thoroughly enjoys. These play dough tinker boxes hold her attention longer than ordinary play dough play, generates lots of pretend play opportunities and reinforces her learning of nature and science. I included a section about learning benefits from play dough tinker box play below.
Choice of Tinker Box Materials
These are my preferences for the materials to be used in the play dough tinker boxes -- considering factors like optimal learning, practicality (ease of cleanup) as well as environmental impact.
Small realistic figurines: Realistic play is one of the tenants of Montessori-based education. Where possible, I provide small realistic human and animal figurines for my toddler's play so she could meaningfully relate to the objects, pay attention to details and better understand the world around her.
Sensory items: Items that vary in texture, size, color, shape provide great visual and/or tactile input during play.
Repurposed toys or household items: Heuristic play involves children inventing new ways to play with everyday items. Repurposing outgrown toys or household items (that would otherwise be discarded) in play dough tinker boxes gives these items a new lease of life -- often, I get pleasantly surprised by how my toddler incorporates them into play dough play.
Nature-based loose parts: Using natural materials and objects in our environment like rocks and twigs acquaint children with nature. I love that there is so much flexibility in loose parts play -- they could be moved, combined, lined up, taken apart or put back together in limitless ways.
Tinker box: I used an old craft box -- the IKEA Glis Box -- for the tinker box itself. The downside is that it is made from plastic and not environmentally-friendly. However if you already have it, it's useful for tinker box play because of the way it had been compartmentalised -- it comes with 2 larger rectangular compartments and 3 smaller square compartments. Alternatively, you could reuse a large paint color palette with big compartments.
A more environmentally-friendly alternative would be play dough trays using a wooden serving plate with compartments.
Homemade Play Dough Recipe (Without Cream of Tartar)
The original recipe is from The Imagination Tree but I modified it since I didn't have cream of tartar.
Ingredients:
2 cups of toasted all-purpose flour (heat treatment to lower salmonella risk)
2 tablespoons of coconut oil
1/2 cup of fine table salt
2 tablespoons of lemon juice (substitute for cream of tartar)
1 cup boiling water (needed for salt to integrate)
Food coloring (I use Watkins because the colors are derived from vegetables and spices)
(Optional) For aroma, 2-3 drops of lavender essential oil or 1 tablespoon of cocoa powder. For texture, add lavender buds. For enhanced visual effect, add glitter into play dough.
Steps:
Mix the flour, lemon juice and oil in a large mixing bowl
Add salt and food coloring to the boiling water then stir continuously to dissolve salt
Mix colored salt mixture into dry ingredients until a dough is formed
Allow the dough to cool before kneading it until you achieve desired consistency. Add small increments of flour until it is no longer sticky.
10+ Open-ended Play Dough Tinker Box Ideas
These are 10+ diverse, fun and creative play dough tinker box ideas I have tried with my toddler, with themes drawing from nature and everyday life and materials that invite play in a hands-on and non-directive way:
1. Space Expedition
Since reading Nerdy Babies: Space and Clothesline Clothes to Jobs People Do, my toddler developed an interest in space and astronauts.
Apart from a space unit study, I created this space-themed tinker box for her to simulate an expedition out into space and a day in the moon boots of an astronaut, utilising Republic's space craft figurines and Safari's planet figurines in this small world play.
I also included small rocks collected from our nature strolls, which are perfect for making crater imprints on the moon sculpted from play dough.
NASA is a great resource for this activity, especially for curious children who wish to learn more about the solar system.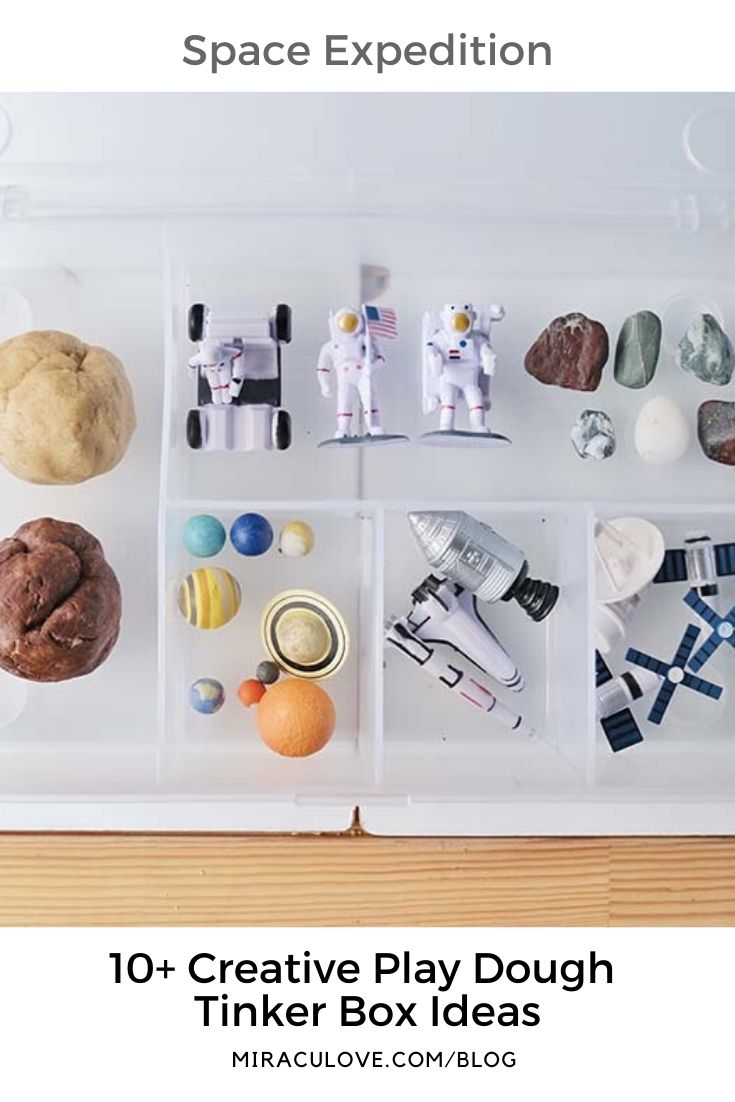 2. Insect Small World
I provided earth colored play dough, realistic insect figurines and loose parts (coffee beans, twigs and pinecones) for this insect small world tinker box.
Probably because the colors of the play dough matched the insect figurines, my toddler started talking about the Mixed-up Chameleon book by Eric Carle. Following this train of thought, I shared about how insects too could camouflage into their surroundings.
This activity presented the opportunity for me to introduce to my toddler the topic of insect science -- what insects are, anatomy of insects, their role in the ecosystem and their living habitats.
3. Farm Animal Small World
For this farm animal small world setup, I used Melissa & Doug farm animal figurine set, a wooden fence from Melissa & Doug's fold & go barn set, silk ribbons to represent hay for the chicken coop as well as leaves and stones collected from a nature stroll.
I made tiny chicken eggs from yellow play dough which my toddler loved positioning the mother hen figurine on, to 'warm' the eggs. She also enjoyed rolling the pig figurine in pretend mud (brown play dough) to make body imprints and hoof marks.
This activity is great for children to learn about farm animals -- their living spaces, the foods they consume and how they contribute to the farm (e.g. milk from cows, eggs from chickens, horses for transport). National Geographic's Farm Animals book is a useful accompaniment for this activity.
4. Wild Animal Small World
For this setup, I used Melissa & Doug's safari animal figurine set, and an array of nature-based items such as leaves, twigs, acorns, stones and wood slices. This enabled my toddler to create a savanna scene for these wild animals.
National Geographic's Safari book is a great resource book for information about wild animals to accompany this activity.
Through this wild animal and the previous farm animal activities, my toddler began to show an understanding about the difference between wild and farm animals, their lives they lead, as well as their habitats.
5. Burger Joint Small World
Burgers are one of the common foods we make or take-out to outdoor picnics, so my toddler is aware of how a burger looks like and even helps with preparing them sometimes.
This burger joint small world activity is an extension of that culinary interest and my toddler's pretend cooking obsession. I love how a variety of burgers could be customised with the 'ingredients' provided.
Using felt, I created cheese, pea pods, spinach and olives. The Spruce Crafts has a directory for a wide range of play foods that could be made from felt.
I integrated pom pom balls into the DIY of these play foods, for instance using green pom pom balls for the broccoli crowns and purple pom pom ball for the heart of the purple cabbage.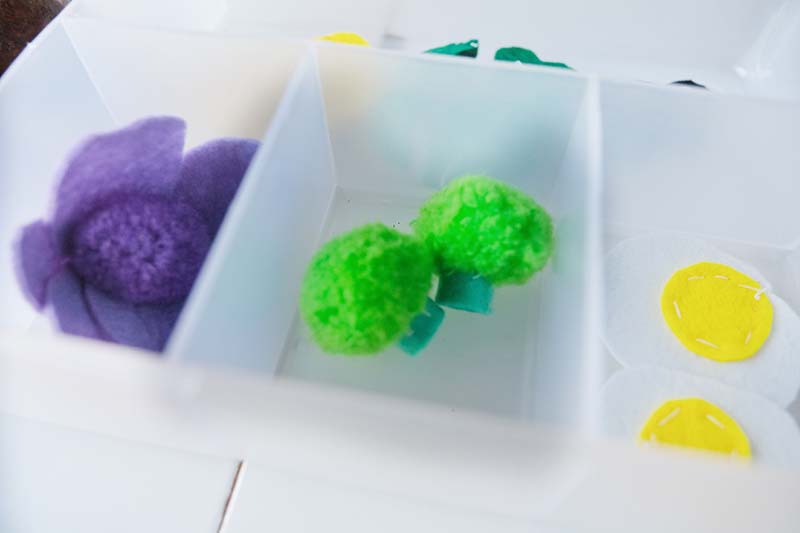 Play dough could be easily shaped into burger bread and meat patties, encasing other felt ingredients. In the absence of felt play food, you could also sculpt all the ingredients out of play dough or use existing food toys.
6. Pizza Joint Small World
Pizza-making is something I regularly do with my toddler in the kitchen. It is fun for toddlers to explore and manipulate ingredients, 'decorate' the pizza base and they show greater enjoyment for the end-product when they are involved in the making process. Other easy recipes I typically try with my toddler are here.
For this play pizza setup, I used a mix of wooden food toys and felt play foods for the pizza ingredients. I also used brown play dough to sculpt mushrooms, which my toddler enjoys de-stemming using her wooden knife.
I would recommend a variety of play dough tools like a rolling pin, knife and pizza cutter for toddlers to manipulate the pizza in realistic ways.
7. Sea Town Small World
For this setup, I provided blue Magna-tiles to represent the sea, yellow play dough for beach sand, realistic sea animal figurines and sea transportation vehicles, seashells from Michael's and other sensory items like blue pom pom balls and wood slices.
The sea transportation figurines couldn't stand, so we used play dough to create a base for them so they could be propped upright on the blue Magna-tiles.
I used Busy Boats (Amazing Machines) and National Geographic's Little Kids' First Big Book of the Ocean as the resource books to accompany this activity.
8. Honeybee Small World
National Geographic's Bees makes a great resource book for this honeybee small world. This activity allowed my toddler to simulate a day in a bee's life, as it buzzes around, collects pollen from flowers, returns to its hives and works in the cells of the honeycomb.
For the setup, I provided realistic bee figurines. In spring, it would be ideal to go for a nature stroll to collect real flowers for this activity.
This is a great activity for teaching children about the different roles and types of bees, for instance worker bees and the queen bee.
9. Construction Site Small World
Since reading Mighty, Mighty Construction Site, my toddler learnt to differentiate the various construction vehicles and enjoys pointing them out when we are on the street.
This activity allows her to create an imaginary play scene designating different roles for the construction vehicles, for instance a steam roller to flatten the ground and a digger to lift boulders (sculpted from yellow play dough). I used Melissa & Doug's wooden construction vehicles, small rocks and sea glass pieces and a speed limit sign from a wooden train set for this setup.
The compartments in the tinker box helped to keep the small, loose parts (such as rocks) together, allowing for effective 'digging', 'scooping' and 'shovelling' actions by the construction vehicles.
10. Ice Cream Shop
Play dough is superb for sculpting ice cream balls and stacking them because they naturally adhere to one another. I used felt scraps to create colorful sprinkles that could be tossed on top of the ice cream scoops and also provided a small drift wood (to represent a wafer stick) and pom pom balls (to represent chocolate pops).
The ice cream cones and scoop are from Daiso, while the mini spoons are from a Disney cultery set.
This activity is great for a dialogue about ice cream flavors and toppings, how ice cream tastes and feels like, how ice cream is made etc. Conversations with rich language expedite language development for children.
11. Penguin Small World
National Geographic's Penguins is a great resource book for children to learn about these fascinating aquatic birds.
During this activity, I also took the opportunity to share with my toddler some interesting facts about penguins -- that some species of penguin like to spend most of their lives (eating, swimming, hunting and nesting) with large groups of other penguins and a large group of penguins is called a rookery.
For the setup, I supplied white play dough (to represent snow and ice), blue Magna-tile (to represent the ocean), white sponge blocks, white cotton Q-tips, white pom pom balls and realistic penguin figurines.
During this activity, my toddler made up a story of mama penguin diving into the ocean to fish so that she could feed her baby penguin! This was another opportunity for me to share with her the fascinating fact that parent penguins take turns foraging for food and feeding the baby penguin with regurgitated food.
12. Monster Factory
This activity is great for children to learn about feelings and expressing them through creating emotive monster art. For instance, green play dough would make a great 'jealous' monster and the facial expressions of the 'jealous' monster could be customised using the sensory loose parts provided.
During the activity, rich conversations about feelings, the situations when different feelings come about and how to react to having feelings help to foster parent-child bonding, boost language development and improve the mental ability of children to handle big emotions.
I also supplied a pair of blunt tip kid-friendly scissors for my toddler to manipulate the loose parts provided, such as cutting the flexible wire and twine string.
Small loose scraps of colorful paper are perfect for creative expression as they could be cut or torn into desired sizes and shapes.
The beauty of this DIY monster activity is that there is absolutely no right or wrong with how the feeling monsters are made -- they could have several eyes and bizarre body parts and are totally subject to one's creativity and imagination.
My toddler is very young so the premise I shared before we commenced the activity was that monsters are fictional cartoon cartoons and don't exist in real life (i.e. they're not everyday people we can meet or see on the street). Generally, I would recommend this activity for older children since research has shown that children under age of 6 years do not easily perceive the difference between something that is made up and real. Furthermore, the Montessori method believes in supporting children's absorbent minds by showing them realities of the world before introducing him to fantasy until they show understanding of abstract concepts and can differentiate truth from myth.
In My Heart: A Book of Feelings is a favourite book of my toddler and its descriptive language and elaborate illustrations convey the topic of feelings very well.
Benefits of Play Dough Tinker Boxes
Creativity boost: Play dough is a highly transformable and versatile element that could be turned into anything subject to the maker's extrapolation and imagination. Children could shape play dough to fit any character role in a small world, or use properties of play dough (moldability/stickiness) to hold other objects in place.
Self-contained exploration and learning: Children could independently tinker with and attempt to make sense of and draw associations between play dough and other materials provided in the same box. A play dough tinker box is highly portable and great for on-the-go fun during car rides and errands.
Application of real-world concepts: Play dough tinker boxes are perfect for small world construction. Small worlds usually project a theme, an environment, an ecosystem, a vision of a real-world scenario. Children get to test and simulate theories during small world play which would otherwise not be feasible in real life e.g. invent a new pizza flavor.
Fine motor strength and skills: Kneading, rolling, flattening, squishing, cutting, folding and shaping play dough work the fine muscles in children's hands and fingers, as well as build strength and dexterity.
Language development: Having a conversation with children about what they are doing with their hands during play dough play is an opportunity for learning new vocabulary and expanding language use.
Cleanup
I typically rinse off the play dough from waterproof/water-resistant items (e.g. figurines) with water. For items that are more vulnerable to water impact, I peel off as much play dough as possible and wait for the play dough to dry out before scraping them off with a kitchen sponge or old toothbrush.
It helps to use loose parts that are not overly small (like felt and pom pom balls) so the separation from play dough isn't too tedious. I would also recommend not to provide sensory bases like sand, grains or beads as they fuse into the play dough. Exceptions are items that you won't mind integrating into the play dough such as lavender buds or glitter which enhance the smell and appearance of play dough.
I wish your little ones a wonderful time playing with play dough!
Hi! I am Yunnie. I am the newly minted mama to a little baby girl and a mum friend to everyone on this special (and many times scary) journey of motherhood. Also a graduated bride with a penchant for weddings.