Apart from reading books, tactile and hands-on activities are highly effective in helping my toddler learn words in Chinese, because of the repetition of oral vocabulary used during play conversation and the exposure to print language. Thus far, my toddler has learnt Chinese words for colors and fruits through books and activities.
Lately my toddler pulled out a Chinese book with pictures of vegetables and asked me to name them. To nurture this interest in learning about vegetables in Chinese, I created this DIY farm harvest activity for my toddler to plant and harvest play vegetables, a re-enactment of our vegetable u-pick experience in real life.
The idea of a pretend vegetable farm isn't a new one -- it's been recreated in different ways by lots of creative and crafty moms. I don't know what's the original source, in fact. But here's sharing the pretend farms I like -- felt vegetable garden (English labels) by Love Peace Beauty, food stickers (Chinese labels) by Chalk Academy and I like this clever idea of reusing pool noodles as the base for a dramatic play garden by Pre-K Pages.
This cardboard vegetable farm isn't my first creation; I had made another version of a pretend vegetable farm for my toddler back in her baby days. Then I had used real washed carrots and planted them in sensorial bins of beans for her to explore. The difference this time is that I included Chinese print labels and a fuller variety of vegetables to achieve a learning objective.
Harvest Activity: Fun & Hands-on Vegetable Learning in Chinese
Materials & Steps
Illustrate vegetables with Chinese labels written on masking tape (to save time, you could use these free play vegetable printables from Chalk Academy).
These are the vegetables and their Chinese labels I used:
南瓜 (Nán guā / Pumpkin)
油菜 (Yóu cài / Bokchoy) -- also known as 小白菜 (Xiǎo báicài)
西兰花 (Xī lán huā / Broccoli)
姜 (Jiāng/ Ginger)
茄子 (Qié zi / Eggplant)
胡萝卜 (Hú luó bo / Carrot)
洋葱 (Yáng cōng / Onion)
蘑菇 (Mó gū / Mushroom)
辣椒 (Là jiāo / Chilli)
土豆 (Tǔ dòu / Potato) -- also known as 马铃薯 (Mǎ líng shǔ)
Use a penknife to cut slits in a shallow cardboard with large surface area to fit play vegetables into.
Make the slits a tight fit for the play vegetables -- the resistance helps to provide tactile input for children as they plant and harvest the play vegetables.
Play Extension Ideas
Beyond vegetables, we moved to fruit learning (again!) I drew a berry bush with velcro dot stickers for my toddler to stick different types of berries onto.
I tied in knowledge about gardening my toddler learnt from the "We are the Gardeners" book by Joanna Gaines by adding gardening tools, an assortment of bugs (helpful ones + pests) commonly found in the garden as well as a scarecrow.
These are the Chinese labels I used:
蚜虫 (Yáchóng / Aphids)
瓢虫 (piáo chóng / Ladybugs)
稻草人 (dàocǎorén / Scarecrow)
铁铲 (Tiě chǎn / Shovel)
整枝剪 (Zhěngzhī jiǎn / Pruning shears) -- Note: I used 剪刀 (Jiǎndāo) in the pictured label but it's the generic term for scissors. A Chinese native-speaking friend offered the term 整枝剪 (Zhěng zhī jiǎn) to describe gardening shears.
干草叉 (gāncǎo chā / Pitchfork) -- Note: I've been told 杈子 (Chà zi), but not verified, is an alternative term for the pitchfork.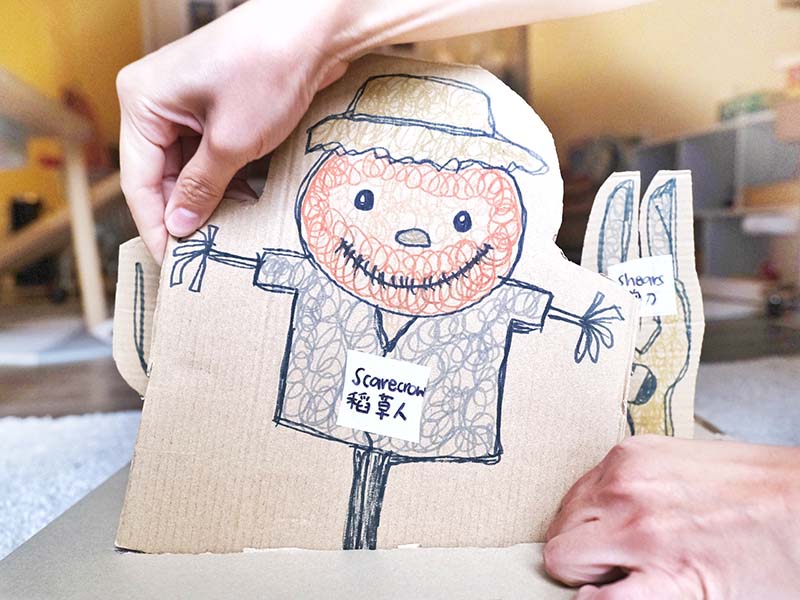 For future play, I'm thinking of creating 'recipe cards' with the written names of selective vegetables to send my toddler on a vegetable harvesting and cooking errand. This activity would enhance sight words recognition.
I'm thinking of rotating the play vegetables in my toddler's toy kitchen with these to increase her exposure to the Chinese terms. I think this counts as 'farm to table' dishes!
My toddler recently mastered the ability to open the fridge door on her own. I would invite her to match these play vegetables to real vegetables from the fridge or vegetable pictures in books.
I'm thinking to update the vegetable farm every few months to reflect seasonal produce and take the opportunity to teach my toddler about seasonal changes.
Play Conversation in Chinese:
Here are some examples of the play discussions I initiated with my toddler:
"我们今天要种什么?"
(Wǒ men jīn tiān yào zhǒng shén me? / What are we going to plant today?)
"我们要从农场采集什么?"
(Wǒ men yào cóng nóng chǎng cǎi jí shén me? / What are we going to harvest today from the farm?)
"哪些昆虫可以帮助农场?"
(Nǎ xiē kūn chóng kě yǐ bāng zhù nóng chǎng? / Which insects help in farming?)
"哪些昆虫危害农场?"
(Nǎ xiē kūn chóng wéi hài nóng chǎng? / Which insects harm the farm?)
"为什么农民在农场里放稻草人?"
(Wèi shé me nóng mín zài nóng chǎng lǐ fàng dào cǎo rén? / Why do farmers place scarecrows on the farm?)
"鸟类认为稻草人是真实的人,远离农作物"
(Niǎo lèi rèn wéi dào cǎo rén shì zhēn shí de rén, yuǎn lí nóng zuò wù / Birds think the scarecrow is a real person and will stay away from the crops.)
Chinese Vocabulary that Can Be Used:
These are examples of vocabulary words I used in the play dialogue with my toddler:
季节性农产品 (Jì jié xìng nóng chǎn pǐn / Seasonal produce)
收成 (Shōu chéng / Harvest)
农夫 (Nóng fū / Farmer)
农产品 (Nóng chǎn pǐn / Farm produce)
水果蔬菜 (Shuǐg uǒ shū cài / Fruits and vegetables)
丰收 (Fēngs hōu / Bountiful harvest)
收成不好 (Shōu chéng bù hǎo / Poor harvest)
I also taught my toddler a Chinese poem about farmers and a farmer's life.
悯农 (Mǐn nóng / Toiling Farmers)
Note: 'Toiling Farmers' is the common translation for this poem, but personally I think a more apt description would be 'Empathy for the Farmers'.
锄禾日当午 (Chú hé rì dāng wǔ)
汗滴禾下土 (Hàn dī hé xià tǔ)
谁知盘中餐 (Shuí zhī pán zhōng cān)
粒粒皆辛苦 (Lì lì jiē xīn kǔ)
While the farm produce used in the context of this Chinese poem is rice, the poem highlights the toil and sweat that goes into farming to yield the agricultural products we consume.
Translated literally, the last line of the poem is "each and every grain (of rice) comes from the farmer's hard work." This is a meaningful poem to teach children to cherish every morsel of food they eat, because food doesn't come easily, and are the result of farmers' hard labour.
I hope your child enjoys this vegetable planting and harvest activity, and learns lots of Chinese while at it!
Hi! I am Yunnie. I am the newly minted mama to a little baby girl and a mum friend to everyone on this special (and many times scary) journey of motherhood. Also a graduated bride with a penchant for weddings.